How quickly time flies- it was only a year ago that I wrote a post about New Year's resolutions and how they aren't really my jamp, but how I do like to occasionally map out plans and ideas for the year ahead. I promise I am not going to do a repeat of that in this post, but I did want to keep you up to date with how my plans for this past year went. My main goal was to be more thoughtful about how I spent money, because I was noticing a penchant for fabric hoarding (among other things) that felt wasteful and, at times, gluttonous. I wanted to limit my monthly spending so that I wasn't buying things to fill some kind of gap or avoid experiencing a negative feeling, so I gave myself a monthly spending budget, which in turn made me think really smartly about what I divulged in. I am happy to report that the budget was a success; I haven't found myself swimming in excessive amounts of unused fabric and almost all the fabric that I have purchased has been with an express purpose in mind. There is certainly still room for improvement so I will keep working on being a thoughtful consumer in the new year, but I consider 2015 a win in this department, so YAY, ME!
For my 2016 new year's post I thought it would be fun to lay out plans for what I do (and don't) want to work on this year; I am hoping this project list helps to keep me on track.
First up, more GINGER JEANS! Claire was promised a pair of her own for Christmas which I unfortunately did not get around to making, what with the loads of other handmade gifts I had to finish before the holiday. So she is getting her pair in the new year. I will be simultaneously making myself another pair since I have been dying to try out the stovepipe version of the Gingers and haven't had a chance to in the past year (for one thing, it was hot as Hades in LA over our "summer", so my body didn't even touch a piece of denim from like, May to November.) I am super inspired by this awesome photo (seen below and grabbed directly from her site) of blogger Suzy Bee Sews jean pocket design for the pair that she made, but I am planning on using a mint green top stitching thread for my next pair, and something tells me that both of those design choices wont work well together (I particularly like how Suzy's blue thread underscores the boldness of the pocket design). Experimentation might be required here, so stay tuned.
Next on the list is this gorgeous bag that Cut Cut Sew made from this pattern.
I have to admit that I would never in a million years have made this bag based on the original photos accompanying the pattern. NO SHADE TO THE PATTERN DESIGNER! But the fabric choices/styling just aren't to my taste and I am unfortunately not very skilled at envisioning different design choices in this manner. I can do it with physical spaces and things, like poorly decorated homes or empty rooms, or even pieces of furniture that need reupholstering, but with clothing and accessories? Nah. Spotting good "bones" in patterns just isn't in my wheelhouse, which is one of the reasons that this fashion sketchbook by Gertie was such a great Christmas gift for me- I want to get better at visualizing and manipulating projects before they are constructed, and I am hoping that using croquis will help me. Anyways, I got this ruck sack pattern as a gift and I immediately headed to etsy to buy some waxed canvas fabric, D-rings, webbing and hooks. I have been using a crappy stained canvas tote (which is much better suited to cart groceries around) as my "purse" for months. It's easy to grab and go at a moment's notice, and because it is so simply made, it kind of "goes" with everything . But I am ready to replace it with something more unique and fashionable, and I cannot WAIT to get started with this project, especially after I made THREE Desmond Backpacks as Christmas gifts for other people this year! It's time for me to have an awesome handmade bag of my own.
Yet ANOTHER awesome Christmas gift I got this year was this DIY quilting kit.
It's from a company called Haptic Lab and I saw it for the first time on cashmerette's instagram several months ago. I am a smitten kitten now. The design uses a tear-away template that you use to guide your hand stitching/quilting (which is pretty genius), and their online store has even more cool designs. I am in the middle of a giant knitting project at the moment and I really want to finish it before I start working on something new, but I am not sure how long I am going to last- these constellations are just so pretty, and a quilt is the perfect thing to work on during this chilly LA winter we are having.
Next up: outerwear!I have never made a coat before and I would love to try my hand at it this year. The window of cold weather in LA is pretty small but it definitely still requires warm clothing- it has been getting down in the thirties at night for the past several weeks, which is customary for all you east coasters but pretty rare for So Cal. The only kind of coat I am missing from my wardrobe is a fancy one, one that I can wear with long dresses and gowns. It took me a while to find the exact silhouette I was looking for but eventually etsy showed me the way with a beautiful and simply designed floor-length vintage coat pattern.
https://www.instagram.com/p/-FrrfuRF4w/?taken-by=trycuriousblog
I took a recommendation from someone's blog and purchased an inexpensive tailoring how-to book to help me figure out the best construction techniques to use since the instructions for this pattern are pretty bare. I still haven't found the wool I want to use- it would be fun to go big and bold with pattern and color, but I want to get the most wear I can out of this so I will most likely choose a stately charcoal colored wool with a bright and pretty lining for the inside.
Several months ago I blogged about making the Kielo Wrap dress with fabric from Girl Charlee, and recently Named Patterns came up with a fun little hack for the dress- they introduced a sleeve pattern piece and some small alterations to shorten and take in the dress to below-the-knee length. I fell in love with the image they shared on their blog for the altered dress, which you can see below. I haven't even had a chance to wear my fancy version yet (I'm still searching for the perfect black strappy heel), so this more casual rendition really excites me because I think I will get a lot of wear out of it. Before the holidays came around, I bought a beautiful and sturdy striped organic knit in an earthtoned colorway specifically for this dress, but of course I never had any time to make it. Every time I see these stripes I want to stop what I am doing and just run down to the craft room to whip it up (it only took a day to make my original Kielo dress), but I am being patient. It is definitely at the top of my priority list, though.
I requested the Simplicity pattern below for Christmas after the delightful blogger behind Miss Celie's Pants tweeted about it.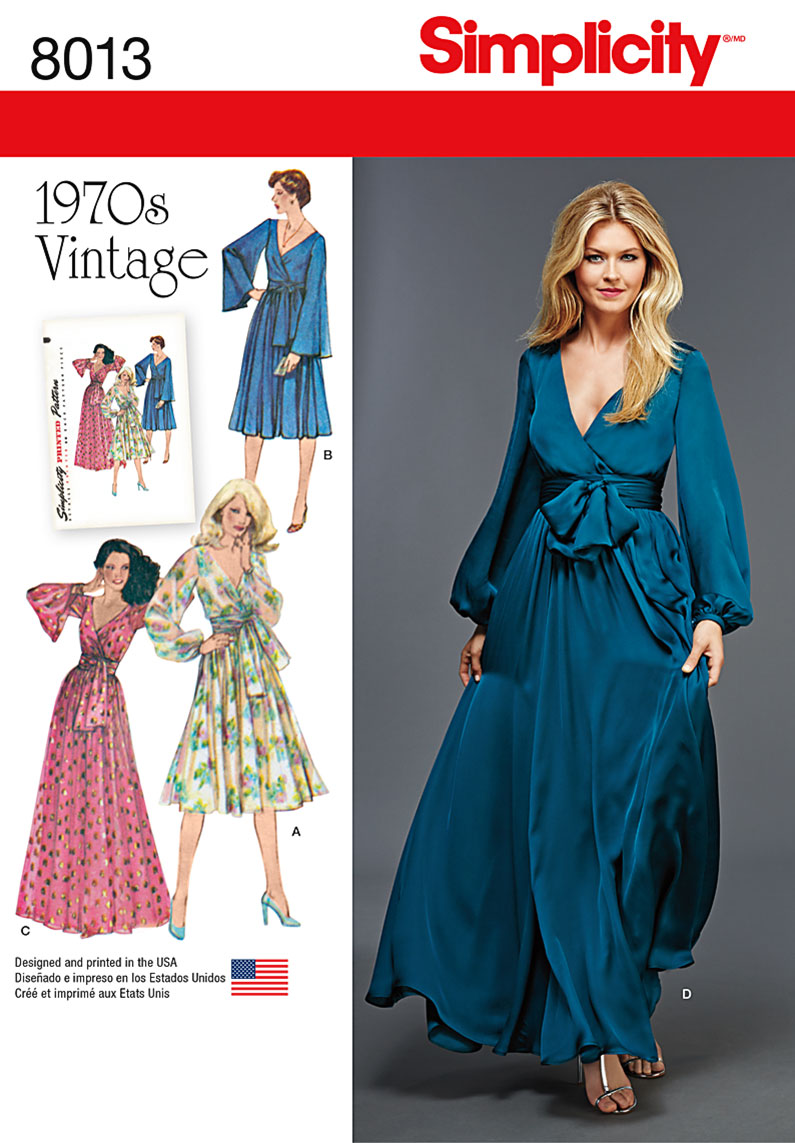 It will be the latest addition to my small but growing collection of #DIYRedCarpet dresses (two of which I haven't even blogged about yet, even though I have worn both of them to events in the past year! Bad blogger!) It requires something ridiculous like 10 yards of flowy fabric, which I find both daunting and fantastic, and I am hoping that both Renee (Celie's Pants) and Marcy (of Oonaballoona fame) will join me in posting about all the antics that come with constructing this monster because I know it's in their project list, too.
There are quite a few gorgeous patterns posted up on the indie company Republique du Chiffon's website, but this jumper is the first one I am attempting to make. It took a while before this pattern was available in English but as soon as it was I rushed to my computer to buy it because I had already spied it somewhere in one of Ginger Make's posts from months ago and pinned it to my "Clothing Inspiration" board.
I bought a super soft, medium weight twill fabric in oxblood colorway from Miss Matabi, which has been sitting very patiently on top of what I like to refer to as my "fabric couch" (once upon a time it was a regular couch used for sitting and laying down, but the more my project queue gets backed up, the more the couch becomes a storage unit for my unused fabric and my in-progress pattern pieces). Is this the right kind of silhouette to compliment my frame? Do I have the right boots to wear with it? Are the dimensions and measurements going to work well on me? Honestly I have no idea, and I don't usually take such leaps on faith on patterns anymore, but this jumper was just TOO cool to pass up. Fingers crossed and hopes high!
I have been reading about this new book, Boundless Style, for months. I am absolutely in LOVE with the concept (mix and match patterns to help you become familiar with designing your own clothing in striking, feminine silhouettes- oh my!) but my experience with Victory Patterns (of which Boundless Style is an off shoot) has been pretty disappointing. I bought two of their paper patterns, the Ava dress and the Nicola dress, and followed the directions to a tee, but the fit/proportions were so horrific on one of the dresses that I actually threw it into the garbage can after spending days trying to salvage it. The other dress had to be altered and manipulated so much that some of the main design elements were totally lost on the finished product- the petal sleeves were clownishly large and had to be redrafted and re-inserted, the darts were the wrong sizes and in the wrong places, and it was unwearable without a slip underneath because the front flaps open so much when you walk and sit down that you end up flashing everyone; not necessarily a design flaw but definitely something to note in the description of the garment. I love the designs and the styling of these patterns, but so far 100% of my attempts have been unsuccessful, so I am nervous to spend money on a book which might contain patterns that are equally as problematic for my body as the Victory styles have been. But the pictures…oh, the pictures! SO many gorgeous dresses and shapes and cool ideas for making unique garments. Ideally I would buy this book and just spend the time working on all the pattern blocks included with it so that they fit my body and I can use them as intended. It's a nice project for the new year, right? And I would only become a better sewist with that kind of work under my belt. But is it really going to be worth my time? Will ALL the patterns need to be altered? I need some outside influence with this one. Anyone have issues with Victory patterns before, or is that just me? Care to rant or rave about this book and push me in one direction or the other? Please, comment away!
My last project for this next year is to NOT make all my Christmas gifts in 2016! Making my christmas gifts for friends and family has been a point of contention for me, which I touched on in my last post about pottery. As Claire and I boarded the plane to head back home to LA after spending Christmas with my family in Florida, I was overwhelmed by how excited I was to get back home and get into my craft room again. There had been so many personal projects piling up over the season and now that Christmas was over, it was the first time in months that I would have a chance to work on them. I always told myself that I never wanted my hobbies or my art to feel like work, but when you are putting in hours around the clock to finish making gifts on a tight timeline, it's impossible for it to NOT feel that way. Sure, making gifts for friends and family feels more personal and more thoughtful, and I do enjoy a lot of the process, but I am not sure it's worth the stress and anxiety I put myself through trying to finish everything on time and praying that it fits or that the recipient likes it (cause you can't get a gift receipt for the stuff I make). So my plan to remedy this is…well, to just stop doing it. I am not sure exactly how this will play out, but maybe one year I can make some gifts (not all of them anymore, just some of them), and the next year I can either buy local, or buy handmade. Or maybe I will always buy local and handmade Christmas gifts from now on and stop making them entirely. Sewing and crafting and knitting is mostly self care for me, and it doesn't seem fair to deprive myself of that support in the way that I have been. If I feel inspired to make a gift for someone then I will certainly honor that feeling, but I wont force myself into becoming a one-woman Santa's workshop anymore. Surprisingly, I feel really good about this decision because I know it's the best thing for me. And hopefully this next year will be chock full of more decisions that I feel really good about. I hope the new year brings the same for you!
Happy 2016!!!