We are way overdue for a #grandmachic make!
This gorgeous dress was finished months ago and was purely inspired by the pattern image on the envelope. I had been looking for a pattern like this for so long, and had even attempted to draft/hack something close to it (it was the original inspiration for the sheer fabric I used in this make) but I never managed to get close to recreating it until I found Simplicity 8545.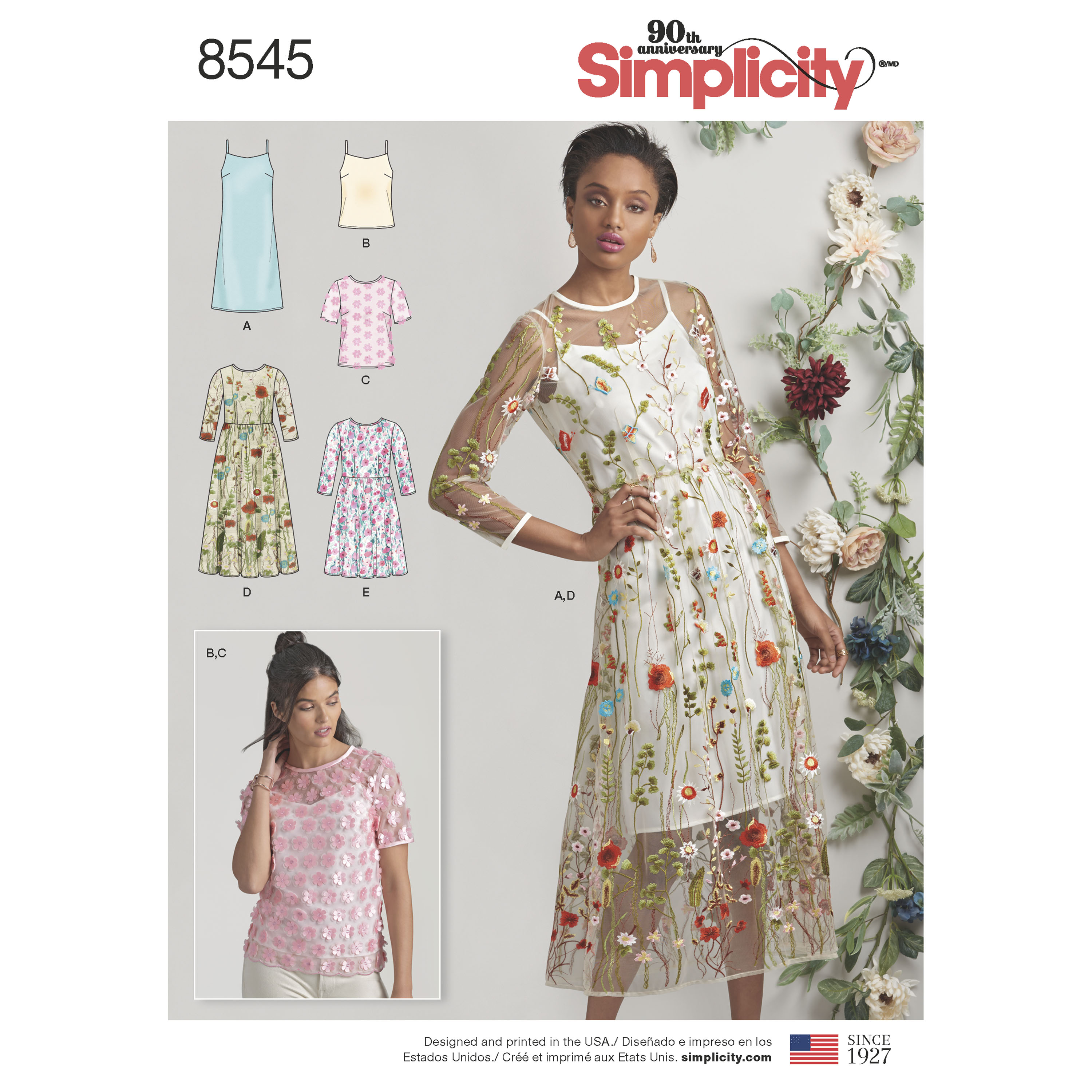 What I like so much about the pattern is the sheer, embroidered fabric which gets paired with something more opaque (in this case, a slip) underneath. I like the peek of skin you get around the embroidered pieces of the outer fabric, and I love the way the embroidery kind of dances around on the body. I also like the high waisted gathered skirt attached to the loose-fitting bodice. The whole look feels a bit effortless, but it could easily be dressed up fancy, depending on how you style it. I had seen some exquisite embroidered tulle around the fabric district before, but while digging through my fabric stash I came across this brilliant bright yellow and gold embossed silk that I picked up at The Fabric Store in LA right before that location closed. I bought it without any idea of what I would make with it, but I felt like I couldn't leave it behind because I LOVED the shade of yellow so much and I thought the whole piece was just incredibly unique. Once I got my hands on this pattern, though, I knew it was going to be a match made in heaven.
I should have muslined this pattern before I cut it out, because like most Big 4 patterns, they tend to come out huge on me, but I had no idea exactly how much ease was in this thing (I couldn't find the information on the pattern pieces but it's possible I didn't look hard enough)! I chose a smaller size and assumed it would be a totally easy thing to fix any problem areas since the design was so simple, but it still came out about 5 or 6 inches too large in the bust. Somehow I was able to use the original darts in the pattern pieces and just take the extra fabric out at the side seams, but I also had to chop off about 2 inches from the bottom of the bodice, otherwise it would have landed way below my natural waist. I messed up on the sizing here, but thankfully I paid close attention to where the gold floral design would land on the bodice front. I knew I didn't want it centered and symmetrical (#sorrynotsorry to the people who DMed me on IG "politely" explaining that my bodice wasn't cut with the design centered on the front- I know it wasn't, and that was intentional) because I wanted to give some visual interest to the composition of the bodice area and I liked the idea of having the floral bouquet crawling up my shoulder a bit. Placing the design off-center also allows the negative space of the fabric to become its own separate visual, and I like the peekaboo of skin coming out in unexpected places, particularly around the shoulders and arms.
Anyways, it took me a while to hack away at the crazy amount of easy in this pattern, but once I got it to a place that felt right, everything else was (mostly) a breeze. The trickiest thing about this make by far was the fabric. It's silk, it's slinky, it's shifty, and it likes to fray so it needs a LOT of attention. I used a microtex needle to keep it from pulling on any of the individual threads but surprisingly I didn't end up needing to use a walking foot. I sewed slowly and carefully, and aside from a few gold threads that got pulled up, the fabric was mostly well behaved. I spent the most time gathering the skirt with basting threads and attaching it to the bodice with french seams (gathered french seams are a real pain in the ass and never come out with absolute precision for me), but luckily it's nothing you would see unless you were looking for some wobbly seam lines on the inside of the garment. Attaching the binding around the neckline also took a lot of patience on my part because I wanted it to look clean and neat, and I think it came out beautifully.
Once I completed the main parts of the outer dress I realized that I absolutely didn't want to close the dress with a zipper as per the instructions- the sheer fabric seemed much too delicate to muddy up with a bulky plastic zipper, and I don't particularly like it when you can see zippers on clothing. I know it's a trend right now or whatever, and I am definitely into the sheer look that Ada Spragg introduced me to on IG, but a bulky zipper on sheer transparent fabric is just not my thing. So I decided to create ties in the back to close the bodice and waistline. I have seen ties used on vintage garments before and this dress was definitely looking very vintage-inspired by this point, so I thought it would be a lovely feature. I carefully created several thin lengths of ties from my silk fabric and knotted them at the end. Then I folded in my seam allowance twice (above the french seam that I used for the back skirt seam, right where the zipper would have been inserted), and sewed it down to the bodice. I attached the ties to the back with some hand stitching and decided to just use two pairs, one at neck and one at waist.
I absolutely love the way the ties look in the back, and it works because the outer dress is worn over a slip underneath that covers any exposed body parts that would have shown through the gaps between the ties. This Simplicity dress pattern also comes with a pattern for the slip worn underneath and this was…a really strangely designed garment. I hadn't realized this when I first purchased the pattern but it's actually designed WITH A BACK ZIPPER, TOO! Yes, that's right- A SLIP. WITH A BACK ZIPPER. Meant to go under another dress that ALSO HAS A BACK ZIPPER. I've seen some bizarre design details in Big 4 before, but never something this glaringly wrong, lol. The thought of wearing two garments with zippers in the exact same place going down my spine is enough to give me agita. Who in the world would design such a thing? I have never even seen a loose-fitting slip with a zipper, so initially I thought that maybe the slip was drafted in a way that I wasn't familiar with, a way that would make it impossible to get into any other way without the aid of a back closure, but of course it wasn't. It's a pretty traditional slip design: it isn't cut on the bias but it has spaghetti straps on the shoulders and wide neck and back openings, meaning it should be a very simple thing to slip it over your head. To be sure that it didn't need the zip closure, I cut my back fabric on the fold without the zipper and I basted the side seams to test it out (my slip fabric is a silk without a significant amount of stretch), and yes, that baby slid RIGHT over my head like a dream, although unsurprisingly it was STILL too big even though I made the smallest size and graded up in the hips. I would rather the slip be too loose than too tight so ultimately it's fine, but on it's own it's just not the best looking thing I have ever made. Anyways, this is all to say that YOU CAN ELIMINATE THE ZIPPER ON THIS ONE, FOLKS!
The slip is the only thing I am a bit unhappy with from this make. I mostly followed the instructions but should have just sewn it up in the way I thought it should look. It is designed to have a small folded hem on the neckline and armholes, but I wish I had created some bias binding for the top hem instead. Folded hems on curved edges rarely turn out perfectly for me when I am using a shifty fabric like silk, and a bias bound edge would have looked so much neater and more professional. The corners where the straps are attached look bulky with the two hemmed seams coming together, and I just don't like how it looks on me. Thankfully, the outer dress covers up all the imperfections of the slip so it's not a big deal, but if I ever make this again, I'll definitely use a different pattern for the slip. One thing I did change was to make the straps much skinnier than they are designed. The draft has them at something like 5/8″ width which looks bulky and weird even under the overlay dress, so I remade them to be thinner- honestly I probably could have gone even thinner than I did, but still, they work much better now.
Looking over these pictures I feel we did a disservice by not getting a great shot of the fabric on it's own- the gold floral emblems on the yellow sheer fabric are really spectacular in real life, but you can't see the details very well in these shots. Another thing you can't see in the pictures is how ITCHY that sheer fabric is! Hahahaa! OMG! I have super sensitive skin to certain fabrics, but because the underside of the yellow and gold silk didn't feel particularly gnarly on my hands I didn't even consider that it might be an issue- but of course, the palms of my hands are toughened up and much less capable of determining what feels uncomfortable than the skin on my shoulders and neck. When I first completed this dress and tried it on I almost tore the whole thing off straight away because it was so immediately icky feeling. But I think maybe I had a dramatic reaction because I just wasn't prepared for it. Once I tried it on a few months later to snap these photos, it felt a little better- still itchy, but once it had been on my body for a while I mostly forgot about it. I have been looking for tan long sleeve tops made of pantyhose material that I might be able to wear underneath this dress, and I think I could mostly get away with it except at the back neck area where the overlay dress opens up to show the slip underneath. I might be able to cut the neckline of the skirt wider so that it isn't noticeable under the dress, as long as I don't compromise the integrity of the fabric and get a bunch of runs racing all over the thing!
Thanks to Claire for these pics, and thank to you readers for your patience in waiting to see this up on the blog- I shared a lot of the process of this dress on instagram and then it took forever to blog about it so it just kind of disappeared on some of you!