I have had Vogue 1287 by DKNY in my stash for a long time but was always hesitant to make it because it seemed like it would be complicated to grade out at the hips and I was afraid I wouldn't fit a straight size in this pattern.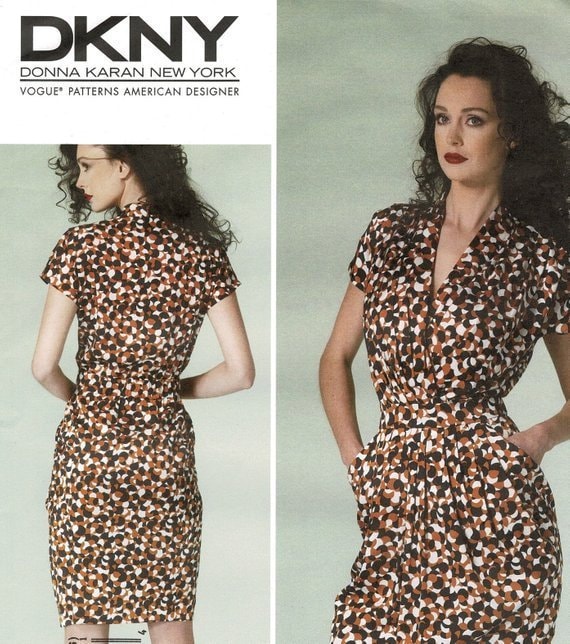 As per usual, I am frustrated by the fabric choice on this pattern envelope- it's certainly a cool looking dress, but the print covers up all the cool details that make this dress so unique and fun! Someone told me that the big name designers for Vogue (and probably other brands) get to design and sew up the samples that are used on the envelopes, which is fun in terms of seeing the designer's original creative vision for a garment, but functionally it leaves much to be desired- how can anyone see the innovative pleating and pocket design in the midst of all those dots??
Ok, that's better. Now you can see the beautiful draping, the fun shoulder pleats and neckline, those wacky pockets that gave me such a headache but that look so cool on the finished garment. I was also hesitant to make this dress because, although I do love an elasticized waist, I was afraid it would make the dress look less chic. I'm so used to seeing elastic waists on cheap, poorly made clothes from fast fashion RTW that I tend to relegate the design feature in my own makes to casual wear and athleisure, and I wanted this garment to work as something a little dressier than that.
While packing for #sewnawayfromhome earlier this year, I hastily threw three patterns into my sewing suitcase, one pattern I loved and had made before, and two Vogue patterns I had never touched. This was VERY risky, because if you have followed along on my #sewnawayfromhome journey in the past, you will have learned along with me how important it is to make patterns that have a great chance of fitting/not needing a ton of adjustments since on the road I don't have a dress form, a huge table to work on or any of the other tools required to do some serious re-working of a memade garment. But I was running out of time before my departure and unsure of exactly what I wanted to make, and I figured I would just do my best to make these patterns I had never sewn before work. Spoiler alert: I ended up successfully making and loving all three of the garments I made over the week and a half that I was in Vancouver! But it wasn't all fun and games, folks!
First off, I brought a couple of cuts of fabric with me to Vancouver but I ended up not using either of them for this dress, and instead using the new (at the time) leopard print tencel twill Blackbird Fabrics was carrying in the store. They recently started letting customers pick up their orders directly from their shop instead of posting it in the mail, so I got to stop by the new space and ooooh and aaaahh over every single thing inside, and of course I got to say hi to Carolyn and the lovely members of her team. Once I got back to my hotel and finished sewing up my purple dress, I realized that this leopard print tencel would be a great pairing for Vogue 1287- the fabric has soooo much beautiful drape but it's not  lightweight and it serves the slightly fitted skirt of the garment very well. The fabric has great body and is soft to the skin, and the print covers up any extra wrinkles that might be hovering around (tencel twill irons well but gets wrinkles very fast).
The pattern pieces for this dress are INSANE. I wish I had taken a picture of everything laid out on the floor after I cut it out, but of course I didn't think to do that- I had tunnel vision when I cut all these pieces out and all I wanted to do was plow through them so I could make sense of how they fit together. The pieces are so uniquely shaped that I had a lot of trouble envisioning how they would morph into a dress, so, since I didn't have a dress form, I carefully pinned the paper pieces of the dress together and draped them on my body to get a better idea. It was super helpful, but once I moved to the fabric and all my notches and dots got lost in the busyness of the print, I was back at square one, haha. The pockets were a huge obstacle for me- they fold back on themselves at certain points specified on the pattern pieces and they also make up part of the body of the skirt, but in order to lay right, the front pleats of the skirt waistband have to be perfectly lined up and sewn down, and any shift away from perfection makes the pockets lay really wonky and look weird. I had to take the pockets out twice to get them right and I moved those pleats around like 20 times before I was happy with how the front looked, but who cares, at least I ended up where I wanted to be!
My memory is a bit hazy because I completed this dress months ago but I believe I cut out a size 10 and graded to a 12 at the hips and I am very pleased at how terrific the fit of this dress is- much of that has to do with the elastic waist, which gives the garment a more forgiving fit, but still, I have made elasticized waists on less complicated patterns that looked way less chic than this. I realize now looking back at the details on the back of the pattern envelope that I took another risk by pairing this fabric and pattern together- although I thought the print and hand of the fabric would work great, the pattern specifies using a fabric with a bit of stretch (it suggests "stretch silk crepe, stretch charmeuse, lightweight jersey") but of course my tencel twill was a woven. I wondered if this would give me trouble- if a stretch fabric was an absolute necessity, it would mean that this dress, which is designed with no closures whatsoever, would not slip over my head when I tried to put it on. This pattern also includes pieces for a bias cut slip to wear underneath the dress, I guess because charmeuse/silk/lightweight jersey would likely be too thin to wear on it's own? Looking at the finished design image on the envelope, I could see that there was a decent amount of ease in the waist and hips what with all those pleats and folds, and the bodice was also drafted as very loose fitting, so it seemed hard to imagine that this garment wouldn't translate well to a woven. Obviously I took the chance and it worked out great- I didn't need the slip underneath and the dress is easy to get in and out of. I have noticed this in Big 4 quite a lot- this dress also required a stretch lace fabric for its' outer shell and a lining underneath, but I was already married to my non-stretch bright neon lace and I forged ahead, not even adjusting the size for it, and it worked out perfectly.
I love the subtle sandwashed sheen of this tencel twill, I love the slightly abstracted leopard print (okay fine! I will no longer say that I don't do animal prints!!!), and I love the look and fit of this dress. The shape and construction are so fun and unique and although it took me a while to get those pockets in a good place, it was worth the work- I don't have anything like this in my closet and I LOVE that! I can sometimes get in a silhouette rut with dresses and skirts because I know what shapes and styles I think I look and feel best in, but sometimes you gotta get outta that comfort zone and change it up a bit- it doesn't always pay off but when it does, it's so exciting!
Thanks as always to my sweet Claire for these pics!