This coat was inspired by a woman named Ariana who worked on the wardrobe truck of my last job. She is one of those people who immediately comes across as VERY COOL. Tattoos, dyed hair, piercings, incredible style. She also happened to be a maker, and every time she came into my trailer we would chat about what I was working on (she wasn't currently working on any fun personal projects because she was on set 16 hours a day but would talk dreamily about how excited she was to get back to her own stuff).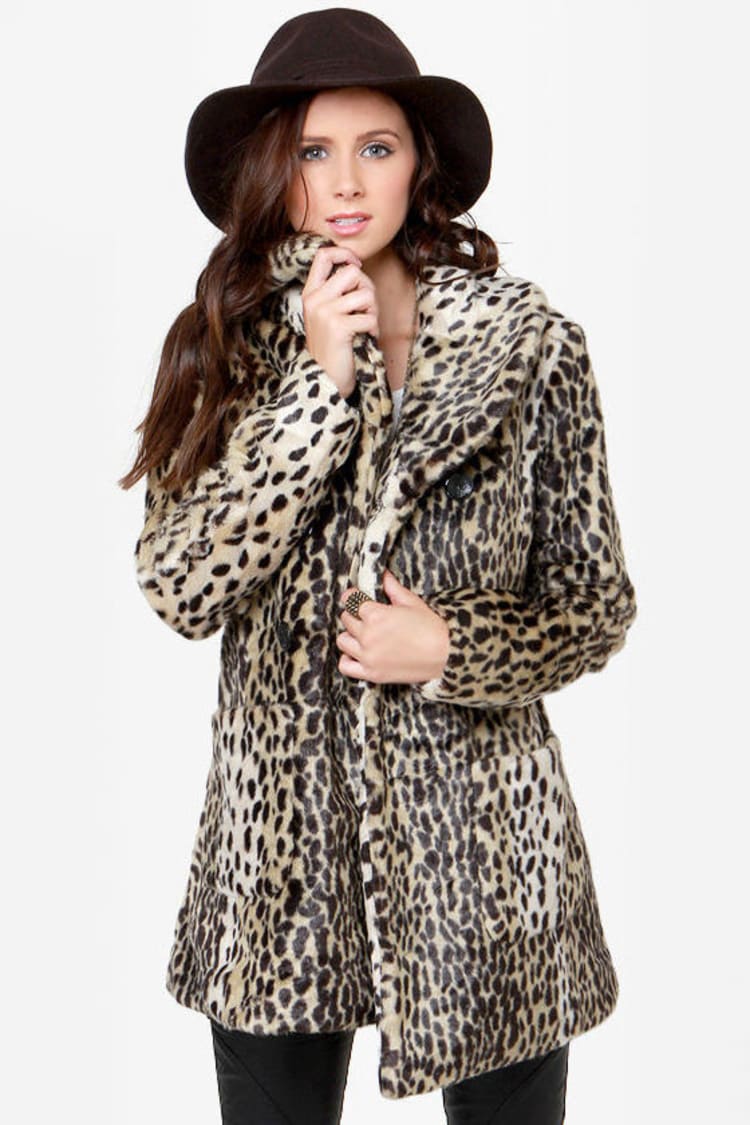 I saw her a few times in this really terrific animal print coat that I just adored. It was a boxy style, very simple lines and no flourishes (obviously faux animal print *is* the flourish), and I fell in love with it. It worked well with the simplest outfits underneath- a black jumpsuit, jeans and a turtleneck- and, having fully embraced the fact that I once was a girl who hated animal print and now I am a woman who LOVES it, I decided to look into making something similar for myself.
With all the shops mostly closed in DTLA during quarantine (and not wanting to venture into any of them even if they were open because COVID), I had to shop online for faux fur, which seemed like a terrible idea, especially after Ariana said that most of the fur sold on etsy was of poor quality and not meant for apparel. But somehow I hit the faux fur jackpot and found a great etsy shop that delivered the most stunning 4 yards of faux fur I could have dreamed. Honestly, I was not anticipating finding something so nice at the price I paid for it, because Ariana also said that faux fur downtown ran in the $75+ price range, and the stuff I found was only $36 a yard! I also looked very carefully at the description of this fabric because there were a lot of sellers that were selling only sheets or pieces of faux fur as opposed to continuous 52″ wide yardage- if you don't know what you're looking for, it would be easy to spend a solid chunk of change on the wrong thing. When my box of yardage arrived in the mail, I cannot tell you how incredibly soft and silky it felt, how vibrant the colors were, how beautiful it was. I was absolutely stunned. Half the quality of this fur would have been totally acceptable at this price point! I really lucked out!
However, once it arrived, I realized that it was…maybe nicer than I even wanted? The jacket I was trying to recreate had a shorter fur length than mine does, and I didn't take the length of the fur into account when I was researching fur because I had never shopped for it before. The inspo coat had fur that was probably 1 inch long, the kind of faux fur you see in causal fast fashion coats and accessories – really cute, not super billowy, fun to touch but without a big fuzzy silhouette. Think appropriate for a Saturday brunch with the girls as opposed to a night out at the opera.
So yes, I thought I was getting brunch when I bought this fur, but I actually received tickets to the Opera, the ballet, The Tony Awards and a Grammy's after party, lol. This is not the first time this has happened to me! I made another coat maybe a year and a half ago that I planned to be a fun throw-over-anything belted number, but instead, the fabric I ended up using was so chic and fancy that it elevated the whole look from casual to opulent, and from there "Rich Bitch" was born (you have to follow me on instagram to have any idea of what I am talking about, haha).
So yeah, here I am with this incredibly super lux fur that wasn't quite what I was expecting but I decided to stick with my plan anyways- if I came out with something more fancy than anticipated, who cares? Everyone thinks I am always overdressed anyways, lol. I wanted a short-ish coat (like mid thigh?) but I didn't have anything in my pattern stash that was exactly what I wanted, and I didn't want to buy a new pattern because I already have a TON of coat patterns. So I decided to go with By Hand London's Juliet Coat.
I had always loved the silhouette and bookmarked it for some future car coat that I might make one day, and this seemed like a really good pairing for my lux fur. The Juliet coat is knee-length (I shortened my version a bit) with pockets, a lining, and a swingy silhouette that is enhanced by it's shorter length. It's a very simple coat with not a lot of details (a great make for beginners!) which I knew would match up well with my fur- I hadn't sewn with faux fur before but I knew it was gonna be a doozy to work with, so I wanted to keep the style lines simple and uncomplicated. The Juliet coat also has an option for a notched or a shawl color. I actually think that both versions would look great in this fur but I opted for the classic notched collar- it's hard to see the details of the collar in this tremendously plushy fur, but I still like it!
Sewing with fur was…a lot. It was a bit less labor intensive than sewing with sequins, but much messier because sequins just fall to the floor or on the table, while faux fur floats in the air…and into your mouth, and up your nose, and all over your hair- I actually cut most of this project out wearing one of the masks I use for COVID precautions so that my nose would stop itching and my tongue would stay clean.
I researched Tips for Sewing with Fur before I started my project and all of them worked well for me:
sew with a walking foot using a longer stitch length
cut the knit (under) side of the fabric with scissors and only make little snips into the actual knit backing fabric, don't open the scissors wide and cut the fur on the other side. I actually didn't heed this advice at first (which was fine because all those edges would be tucked into seams) but if your edges will be hanging down and free, this is a really important tip; if you cut the fur straight across, it looks like a bad haircut. But I actually found that, if you're proficient with its' use, a box cutter or razor blade is much more quick and efficient to cut out your fabric and even better at keeping the fur on the right side of the fabric intact.
use clips to hold fabric together (my fur ended up being easy to pin so I used both)
push fur in direction of grain and sew straight down the seam, tucking fur towards outside of garment
trim the fur sticking out of the seams with scissors or clippers to reduce bulk
if you have one, keep a hand vacuum at the ready to keep your workspace clean (I also kept my robo-vac running while I was cutting everything.
mark information on the underside of the pattern pieces; the fur hides any marks made on the back of the fabric and it makes it easier to keep track of which pieces are which since the fur makes everything kind of look the same.
make sure to cut in the direction of your fabric's grain, and make smart decisions about which pieces should utilize which grain- this became important when I was making the collar and realized that having all the pieces match the same grain created weird effects since the fur is more 3D than 2D like most fabrics.
This was the first project I cut out directly from my fabric using my projector (although this isn't quite true- I outlined the pattern pieces directly onto my fabric from the projector, then I turned on the lights, double checked everything and THEN started cutting).  I knew that I was taking a HUGE risk by doing this. But the end result wasn't too bad, surprisingly. If I was cutting straight from the pattern with no adjustments, my cutting directly into the fabric would not have been a big deal, but I decided to take some length out of the shell and lining pattern pieces, and because the coat flares out and has a curved bottom edge, this invited a lot of room for mistakes where some pattern pieces didn't quite match up. I ended up cutting my back pattern piece out shorter than my front ones, and the misjudgement was too big to ignore. Thankfully I had enough fabric to recut the back out in two pieces with an additional back center seam that is practically invisible in this fur, so it ended up being fine. I also needed to cut my collar pieces out again because on one pattern piece I forgot to orient it along the grain of the fur, and with the others, they ended up not looking right when sewn together on the proper grain of the fabric so I had to cut them out on the opposite grain. Again, everything worked out fine in the end and I had enough fabric to address all my mistakes, but I learned a good lesson in terms of working with my projector and how to pay attention to the pattern layout:  make sure the lengths of everything match before cutting out if I have done any alterations in length!
The seams of this coat are obviously very bulky, and the sewing felt slow and tedious, especially when I made a mistake. But by that same token, it's kind of hard to see mistakes in fur this big! I am only slightly ashamed at admitting that this is one of the worst sewing jobs I have ever done, hahaha. Fortunately you can't really see all the messy parts, they are mostly covered up on the inside, but the trickiest part of this jacket by far was sewing my slinky lining to my stable, bulky fur. I wished I had a lining fabric that was a better match for it, but I wanted to use up what was already in my stash so I just had to suffer through working with something that was "close, but not quite right". I had to unpick so many seams of the lining after I had already stitched them because the lining got caught on top of itself under the fur, and of course removing the stitches was even more tedious because the stitches get soaked into the thick knit of the fur and are difficult to remove. The attachment of the lining at the bottom of the coat is just UGHHHH. NOT GOOD. Again, nothing that stands out if you're looking at it from several feet away, but my lining had a decent amount of to it and seemed to grow at each seam so that by the time I was closing up the seam at the hem of the coat, I had like, 1/2″ more fabric that just got kind of gathered in there because, by this point of the coat, I WAS SO OVER IT. There is an unsightly puckering at one corner on the inside of my coat, and I am not proud of it, but weirdly, I AM still proud of this coat!
It was a fly-by-the-seat-of-my-pants type of project but ultimately I pulled it off and am truly stunned at 1. how gorgeous it turned out and 2. how very few opportunities I will have to wear it before it turns hot again. But let's be honest- this wasn't a *fill a gap in my wardrobe* type of make, this was purely a frivolous and fun make, and with so few chances to be able to feel lighthearted and whimsical in this damn pandemic, it's important to find little bits of joy whenever and wherever we can. While cumbersome, it sure was nice working with such soft, luxurious fabric, and I really enjoyed making this pattern for the first time! I actually think I will probably make it again at some point in the future, in a much less dramatic fabric so that you can actually appreciate the style lines and swinginess of the coat! It's roomy on the inside so you can still wear a sweater underneath (which is how I prefer my coats to fit) and it's also just FUN! When you put it on, you want to do twirls in it because the swinginess just CALLS to you!
The last cool thing about this coat is the button closure, which I ultimately did not utilize in the traditional way. I knew I wouldn't want to put a buttonhole in thick fur like this cause it would look horrible, but I couldn't think of another type of closure that would work. I didn't think a decorative hook and loop type deal would fit with this stylewise, and neither would a big metal snap. Honestly I thought it looked good plain in the front with no closure at all, but I wanted the actual function of having a closure.
Then I had a brilliant idea- I had a stack of these super strong magnets in my craft room from when I was contemplating making some little sewing pin holders out of my pottery and glueing magnets on the bottom. I never got around to that project, but the stack of magnets was staring me right in the face. I pulled a few apart and tried to see if they would still be operational with layers of fur in between them (though strong, magnets can lose some of their strength when other materials are placed between them). It turned out that two magnets on either side still had a really great magnetism through the fur! I marked where they needed to land on the inside of my coat collar, sewed tiny pockets for the magnets to be held in, then handsewed the pockets to the inside of each collar. It works absolutely beautifully- a soft, gentle snap that holds the pieces in place and maintains the integrity of the fur on the outside of the coat.
A few people DMed me on IG "warning" me  (eyeroll) that strong magnets can wipe credit cards or damage electronics, of which I am very aware, because I, too, learned science in grade school! The facts are: the placement of the magnets of my coat would never reasonably come into contact with any of my credit cards or electronics for any length of time. If they were located near my pockets that might be an issue, but they aren't, and, perhaps more importantly, the same size and strength magnets are sewn into the HOBO brand wallet I have been using for years. The magnets serve as a closure for the wallet instead of snaps or zips, and none of my credit cards have been damaged in all this time, nor has my phone, which is always nestled close to my wallet in my purses since those are about the only two things I leave the house with besides keys, chapstick and masks. I don't know what strength of magnet it would take to cause the kind of damage to credit cards and cell phones we are always warned about, but it's much higher than the individual ones I bought on etsy (maybe the stack of 10 could do some damage because they are definitely very strong when all linked together, but their strength diminishes greatly when it's just one or two magnets pulled away from the pack). So if you think this is a great idea to try for yourself on your own project but are worried about damage from your magnets (with electronics or health or anything else!), definitely do your own research to be safe, but I think the chances of them being damaging when used like this for sewing are pretty benign.
Lastly, I just want to highlight a few of the other items in these photos- the heels are memades from a few years ago and they are still going strong- I love these shoes! So comfortable and they go with so many things! The pants are a recent make of mine, the Cass Pants from the new indie sewing brand Make, by The Fabric Store. Hopefully I will do a blog post on these at some point in the future but I will go on and tell you that the pattern is divine and one of the nicest pairs of pants I have ever made or owned- the fit was spot on and didn't require much adjusting at all!  And finally we have a peacock blouse made from a vintage pattern that I will also be blogging about at some point in the future- it's one of the tops from the How Many Blouses Challenge I started for myself at the beginning of the year and it's such a winner! Belt is also memade and hat is RTW. Photos are by Claire!
Alright, that's all you could hope to learn and more about this coat! Thanks for reading, and I hope you are all staying safe out there, taking care of yourselves and each other!