As someone who is rarely if ever caught up on pop culture and media hype, Crissle and Kid Fury's podcast The Read has allowed me to become someone who might be able to possibly participate in water cooler conversation at the office…if I had a regular job, of course. I am often painfully unaware of what the general American public is doing and talking about at any given time, and this wouldn't be so embarrassing if my career wasn't in entertainment. I don't watch many shows, I am averse to reality television unless it's airing on HGTV/hosted by Tim Gunn, I never listen to the radio on purpose, and the only movies I usually pay to see in theatres are independent films with limited runs. For a professional entertainer, I can be pretty clueless about what is happening in my field. So initially, listening to The Read felt like due diligence.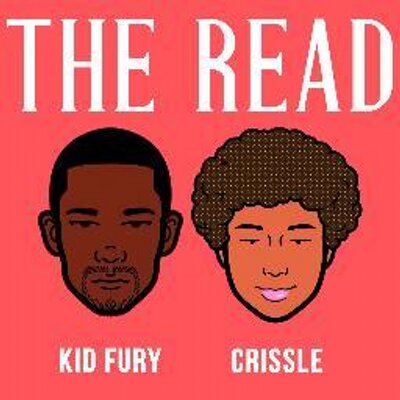 Crissles and Kid Fury are two friends who discuss all things pop culture related- the good, the bad, and a LOT of the ugly- with the perspective of being people of color, queer, socially aware, and feminist. There is no dearth of humor in their hour+ long episodes, which is why I imagine they have garnered such a massive following so quickly, but for me, the most enchanting thing about Crissles and Fury is that they have created a podcast that is LISTENABLE. Normally I HATE this genre of podcast. I can listen to stories being told and I can listen to information being given. I can listen to news coverage and music discussions and readings of fictional work. But listening to people just talk to each other for an hour? It makes my skin crawl. There is something so uncomfortable to me about listening to people with big personalities talk all over each other and tell jokes that fall flat and conduct asinine interviews and attempt to be hilarious for an audience that isn't responding to them in real time (see: almost every comedy podcast in existence). It's nails on a chalkboard for me. So I listened to my first The Read podcast with considerable trepidation. You can imagine my surprise when I discovered that not only do Crissles and Fury have an easy and honest repoire with each other that doesn't feel rehearsed or too polished, but that their coverage of hot topics is often tied in with their views on social justice and observations of the harmful effects of the patriarchy and capitalism. They are progressive, outspoken and silly, but also capable of recognizing their complicated relationship with pop culture; they allow themselves permission to ridicule the machine of the entertainment industry while acknowledging that they care enough about it to devote a couple hours discussing it each week. What's more, Fury and Crissles don't claim to have it all figured out, and they seem to be in the process of learning just like the rest of us. I can recall an episode where the term "spirit animal" was mentioned for some reason or another, and Kid Fury somberly responded "I don't think we're supposed to say that anymore…", which made me more than a little overjoyed- he wasn't admonishing or judgmental, rather, he was trying to be sensitive and mindful of an experience outside of his own. I personally didn't understand how harmful the term "spirit animal" was til I read a post about it on tumblr a couple years ago, and I like to imagine that same post coming across Fury's dash and enlightening both of us in the same way. Crissles and Kid Fury are an example of our generation's ability to maintain humility while still being unapologetic of ourselves and our histories. They demonstrate brazenness and their show is provocative, but they also give their listeners examples of how to be flexible and open to new ideas. They they talk about loving themselves, they make us laugh out loud, and they also offer sharp commentary on the injustices of the world without mincing words or trying to appeal to any specific demographic. Together, Kid Fury and Crissles are a force to be reckoned with.
Listening to The Read is one of my favorite things to do while sewing, and when I first learned of the podcast, I had tons of episodes to catch up on, so there were projects I started and completed that seemed energetically tied to certain The Read episodes and themes (like my "Caught Up In My Light-Skinned Feelings Carry-On" bag). If you are already a fan of the show, you will understand the significance of "Bitch You Guessed It!", and me and Claire laughed so hard at Fury screaming this lyric as the new title for one of the segments of The Read that it was impossible to not to use it as the name for the dress I was working on at the time. This garment is Frankensteined together from two different dresses in Gertie's Vintage Casual book, resulting in the Summer Dress With Flared Skirt pattern (seen below, an image from Gertie's book).
In the past I have had limited success at pattern hacking, so I was nervous about how this would turn out. I was so in love with the gorgeous fabric I got from The Fabric Store that I didn't want to screw it up (as I have with so many other beautiful yards of fabric), but I also didn't want to spend the time making a muslin of this dress BECAUSE I AM VERY VERY LAZY. Fortunately for me this dress came out about as perfect as I could have hoped for.
I prefer full circle skirts on my frame more than the flared skirt called for with this pattern- I think they look better with my waist to hip ratio- but I didn't have enough fabric to do a full circle skirt (fyi I bought this fabric before I resolved to only purchase material that I had specific plans for, so I had no project in mind when I chose it and therefore only bought a couple yards). But even with the flared skirt, I am pleased with how it falls on my frame, and I think the shape of the skirt works well with the fitted bodice. I didn't make a conscious decision with how the pattern pieces would get cut from the fabric, so the fabric design that falls across the front at the waist seam was an entirely happy accident. With a little tweaking and adjusting, this was a simple and fairly quick make, and it was perfect for this fabric, which seems to be a cotton linen with a wax print inspired design- very breathable and with a little bit of give.
Thanks to Claire for taking these awesome photos (trying to get better at planning nice, intentional photoshoots instead of snapshots of me in a mirror from instagram). On the way down our uneven concrete stairs in our backyard to take these photos, I scraped a sizable sliver of skin off my foot, so the pained, pitiful faces in all of these photos can be attributed to my clumsiness.