I have never made myself a dress for Christmas before, but since this was our year to spend with Claire's family and they had a 'Progressive Dinner' planned (which entails starting dinner at one house with drinks and apps, moving on to another home for the Christmas meal and then a final house for dessert and presents), I figured this was as good a time as any to whip up some festive attire. Truth be told, the Christmas dress only came into being after I walked into The Fabric Store  last December and saw a roll of the most luxurious black velvet laying on one of the tables. It was so soft, the fabric had a gorgeous drape, and the velvet had so many dimensions. Black is my least favorite color to wear so I pretty much never ever sew it unless it has a print, but this velvet was too special to not make an exception- when the light hit it you could see all the texture of the cloth while the deep black color seemed to emit golden hues at certain angles. What made me more in love with the fabric was that I immediately knew what I wanted to make with it, which is pretty rare for me. I had bought a Big Four pattern when there was a massive sale on them at Joanns. My Dad had come down to visit me in Savannah for the weekend and since I didn't have a car, he happily drove me to the grocery store, Target, and Joanns so that I could grab some notions that my local fabric store down the street didn't carry (f I hadn't mentioned it before, my Dad is exceptionally sweet and I wish I had a photo of him patiently sitting next to me holding my basket of thread and zippers as I thumbed through the $1 bin of patterns).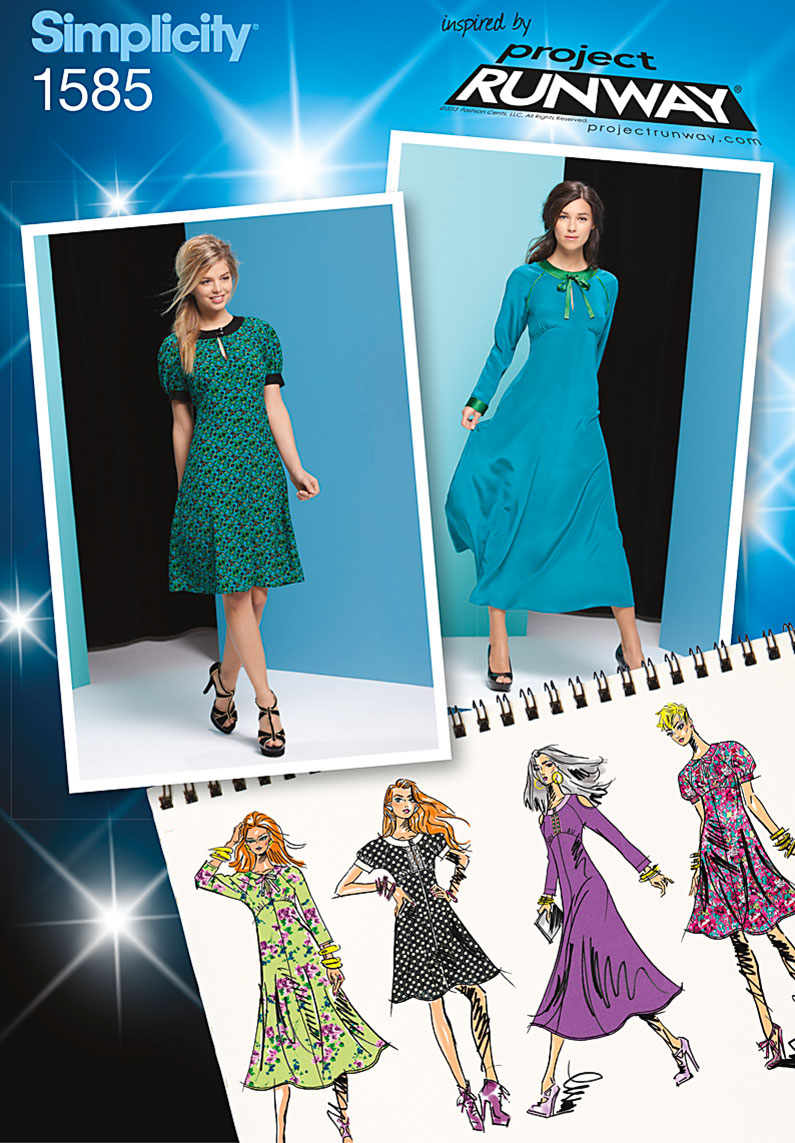 Anyways, one of the patterns I nabbed was this Simplicity 1585 Project Runway dress with raglan sleeves. The Project Runway patterns are great because they give you lots of options for adding details and design elements to what is otherwise a simple garment, and this one had some really cool options for adding piping and ribbon. The style lines of the dress seemed like they would suit my black velvet beautifully. My fabric wasn't super heavy or thick, but I still thought it would best suit a pattern without a lot of bulk and gathers, and because of the way the lines of the skirt flowed, velvet seemed like a match made in heaven. Turns out, nothing is heavenly when you are sewing with velvet :/
I re-upholstered an armchair in velvet last year and had to do a fair amount of machine sewing for the piping and seat cushion but I didn't have any trouble with it at all- maybe because it was a heavy weight fabric and backed by sturdy cloth, it behaved like any other upholstery fabric I had worked with before. My precious, supple black velvet on the other hand? Totally different story. I found a little bit of helpful information about sewing with velvet on the Threads Magazine website, but nothing could have quite prepared me for how frustrating it would actually be! I imagine that sewing with velvet knits is a little less complicated because you can just power through most all the seams with a serger and be done with it, but my velvet required a lot more attention than that.
The biggest thing I learned about velvet during this project is that it is MESSY; I was constantly wiping teeny tiny little threads of black off my sewing machine and work space. I guess this is because the threads in velvet fabric are short and piled as opposed to long and woven, so when you cut it, the hairs are no longer attached to anything and they just fall all over the place. My velvet also behaved a little bit like silk when I was cutting out the pattern pieces, but because I was on a tight timeline with a little less than three days to make this dress before we left town, I didn't want to spend too much time cutting it out. So. I cut it on the fold. I would NOT recommend this! Cut your slinky velvet out in a single layer like a responsible seamster!
The next biggest thing I learned about sewing with velvet is that it doesn't want to be sewn!  You think I'm kidding? It's as if the fabric had a life of it's own. When sewing two pieces of velvet together, they just don't want to stay in place and have a tendency to slip and slide out from under the needle. I tried pinning my layers all kinds of different ways but it still wouldn't behave, so then I tried a tip from Threads Mag that suggests you use a fabric adhesive on the seam allowances of your pieces, press them together, and then sew. This worked about 80% of the time, but it took a lot of extra work and patience and it of course made things even more messy. To keep the glue from spraying all over my cutting table, I would place paper underneath the edge of the piece of fabric I was spraying, but soon enough that paper would become tacky with glue and wind up transferring itself onto my hands or other parts of the fabric. Add to this all the tiny hairs of stray velvet that was covering my workspace already and you can imagine what a sticky mess it was. I was surprised that the glue didn't really ruin any of my fabric, though- there are a few places where there is still glue within the seam, but mostly it wiped off pretty easily, and the glue itself tended to lose it's bond after several minutes, so if you mistakenly glued any pieces together, you could pull them apart without too much trouble.
One of my mistakes in making this dress (and oh boy, there were many!) was thinking I could add all those cute details (like the piping around the arm seams and the keyhole at the neck) using a satin contrast fabric on top of the velvet. I gave it the old college try, but working with the glue and the piping and two finicky fabrics was more than my poor little maker psyche could handle. The nail in the coffin was finally completing one side of piping and realizing that, aside from being uneven and wonky looking, the velvet combined with the satin piping looked an awful like a velour Adidas track suit from the 70s. And obviously that was NOT the look I was going for. Ultimately I abandoned the piping and the final result of the dress is better for it, but I will most definitely be making this dress again in the future with a less finicky fabric and using the piping as intended.
I made a quick muslin of the bodice of this dress sans sleeves since most Big 4 patterns don't fit me right out the box, and I was pleasantly surprised to find that this was an exception, save for taking in the seam allowances in the back (I have a 'small back' in pattern adjustment lingo and have had to take in fabric at the back zipper on every dress I have ever made). The only real issue I had with the pattern were the sleeves, so of course I was kicking myself that I didn't include these pieces in my muslin from the very beginning. It's hard to tell if the sleeves were wonky because of my fabric or because of the design; as drafted the short raglan sleeve version has two pleats at the cuff in addition to gathers on either side of them, and they are connected to a band in contrast fabric (mine was the cream colored satin). For the life of me I could not get these sleeves to work. My velvet fabric seemed too bulky to accommodate both the pleat and the gathers, and because the sleeve is so small, it was also hard to get fabric adhesive on the seam allowance properly, so I had to resort to using pins again to keep the pieces together under the needle. As a result, the fabric slid around so much that I couldn't successfully sew a consistent seam allowance along the edge and the sleeve ended up looking pathetic- it hung down lower in some places than others, it was weirdly puffy around the shoulder, and it was also too tight around my arm. I spent HOURS on these sleeves before realizing that the only way to save the dress would be to omit the satin sleeve cuff and the pleats, loosen the gathers, and use a cuff made out of velvet instead; the velvet tended to work better with self fabric than satin. When I finished the sleeves and tried the dress on, it was ten times better than before- the sleeve lay smoothly off the shoulder and didn't look too billowy.
Finally, I had a bit of trouble with my invisible zipper- I could not manage to get it to lay smoothly at the very bottom where the two back pieces of the skirt connect together again. I am pretty good with invisible zip insertion so I am just gonna blame this on the fabric, too. I don't think it's bad enough to notice unless you're looking for flaws, and nobody does that on Christmas day! If I were ever to wear this dress to a red carpet event though, I would definitely try to figure out how to make it lay flat.
All in all, this make was pretty successful considering that I had never worked with this kind of velvet before and it was brand new pattern to me and I had time constraints. I feel very elegant in this, because for one, velvet is an extraordinary fabric to wear, and two, this pattern works well on me. The skirt is flowy and I love the way the high bodice looks and feels. I also love the design of the collar and the keyhole at the chest, which gave just enough of a peekaboo to be interesting without making me feel self conscious. The finished garment has a vintage A Doll's House vibe to it, which was probably due to my color and fabric choices, and I really love how it turned out. I will absolutely make this dress again (but not in velvet!) and I will absolutely sew with velvet again (but not in this pattern)! I am super interested to try out some different types of velvet next. I have a couple of yards of a beautiful, sturdier purple velvet from The Fabric Store that I think would make a great pair of cigarette pants, and I am also interested in getting my hands on some stretch velvet and using a super simple pattern which will let the velvet take centerstage. But not anytime soon; it's been almost a month and I am still recuperating from this dress!