I certainly never imagined that I would successfully accomplish, yet alone be interested in, making a bra, but after sewing a pair of the world's most perfect skinny jeans for yourself, you start to feel like anything in possible. Truth be told, I generally focus on sewing things I can't find easily in RTW, but my boobs are an easy size and shape to find bras for, and for most of my adult life I have made an annual trip to whatever Calvin Klein outlet was closest to me, stocking up on well-fitting bras in neutral colors that would last me til the next year. I have never been one to sacrifice undergarment comfort for the sake of prettiness, so all those bras with the lace overlays and the funky colors and the cute ribbon bows rarely if ever made it into my bra drawer. I had been tempted by the gorgeous matching bra and panty sets in the windows of lingerie boutiques in the past, but after balking at the outrageous price tags one too many times, I learned to roll my eyes and keep walking.
It wasn't until the lovely Gertie of Gertie Sews released a lingerie and panty pattern for Butterick that I began to reconsider my strict stance against beautiful undergarments. The pattern consisted of a pretty slip that could be converted to a camisole and matching full coverage undies with a pretty lace detail on the edges, but the real kicker was that she was selling kits with everything you needed to complete the ensemble and posting a sew-along, too. Nothing shouts TRY THIS NEW THING to me more than a kit and an online support group! So I bought the thing, I read the thing, I made the thing, and it was beautiful.
Unsurprisingly I have not worn the slip once, other than to try it on after I finished making it. I'm just not a fancy lingerie wearer, and it's not the kind of slip that works easily under clothing because the lace catches on fabric really easily and the design has too many details for the sake of pretty rather than the sake of function. Which isn't a complaint at all; the slip is so pretty! It's just not something that would ever be a wardrobe staple for me. But the underwear had me intrigued after I made my first pair. I might not find many opportunities to wear a fancy lingerie slip, but I have PLENTY of space to work with cute undies! I like my cotton HANES that are good for everyday wear when I don't plan on leaving the house or wearing anything other than my sweatpants, but I have always been stumped on how to include pretty panties in my rotation because most pretty panties I find in stores either 1. don't offer full coverage in the back so that I have to walk around with a perpetual wedgie, 2. leave ridiculous panty lines in an otherwise smooth silhouette because they are made with the world's most chunky elastic or 3. a horrific combination of both. And before you ask, I avoid thongs like the plague whenever possible.
There were a few issues I had with this panty pattern. The glaring one was that the instructions included in the pattern (and in the sew along) made no mention of using light tension when sewing the stretch lace to the edges of the panties. So when I completed them and tried them on for fit, I pulled them over my hips and heard a whole row of stitches bust open. Without stretching the lace while sewing them with a zigzag stitch, they had no give at all! I tried making a larger size thinking that was the problem, but the same thing happened, with the additional problem of the undies hanging off of my waist cause they were too big. Next, I re-sewed the lace onto the smaller sized panties, but I created tension in the lace while sewing them, which gave them more room to stretch, and of course they fit perfectly. I can't imagine I was the only person who had that issue when making this garment, but whatever- at least I figured it out. The other problem I had with the design was the lace. It's beautiful and a really nice, delicate touch to the aesthetic, but it's not very functional. I wash all my handmade items on a delicate cycle and line dry them, and items like panties and bras go in a lingerie bag, but still, after a few washes, these underwear were pilling and the tiny elastic ends from the stretch lace were breaking and sticking out. The underwear are still wearable, but the lace hasn't held up to consistent wear the way I thought they would. Lastly, the design of these undies does not include a separate gusset; the lining of the panties is sewn onto the bottom pieces of the back and front on the sides (leg openings) of the undies, so the lining is unattached in the front and back, and it has habit of moving around a lot when I wear them and causing a bit of aggravation/discomfort. It's funny, you never know how important certain design elements are in the things you wear on your body until you're without them- then their importance is glaringly obvious!
I still love Gertie's underwear pattern, and somewhere on my queue of things to do in the future is adapt it so that it works better for me. I LOVE the full coverage the panties provide and I love that they rest lower on the legs without being too constricting (although I hate this term, I think they would qualify as "boyshorts"). Mainly I want to try regular lingerie elastic with them and see how they hold up.
After the excitement of Gertie's panty pattern, I kept my eye out for another similar project and was ecstatic when I stumbled upon Cloth Habit's blog. I think it was Heather at ClosetCaseFiles that introduced me to the new Cloth Habit pattern (if you don't read Heather's blog, you should- Closet Case has wonderful patterns, sew alongs, and tutorials, and her "What's Doin'" weekly wrap up of all things sewing-blog related is my favorite thing to wake up to on Sunday mornings!) Anyways, Cloth Habit's Watson Bra and Bikini Pattern is a 70's inspired design with the option for a low-line or regular bra and a pair of bikini-style underwear. True to my overly ambitious self, I dove into this project without waiting for the sew along to begin, and I paid the price for it.
Bra #1 was made of a black stretch mesh for the cups and cradle and a black powernet for the bands. This was my first time working with tiny seams at length, and stretch mesh is NOT the easiest fabric to start a brand new project with, so there was a lot of seam ripping in the process, which was difficult to accomplish with the black thread on black fabric. Eventually the fabric was looking so worn and tired from all my mistakes that I decided to put it in the Butthole Bin™ and start over from scratch with a better fabric.
Bra #2 was made of a fabric called Venezia 4 way stretch jersey lining, which I used for the cups, and I learned about it from the kit I got when I made the Gertie pattern. So far it is my favorite fabric for undergarments; it's lightweight, has an excellent stretch, and has a very light shine on one side while matte on the other. It's also pretty easy to sew with. It doesn't handle seam ripping very well, which I learned the hard way, but it isn't too slippery or out of control when under your sewing foot either. The band was made of the same black powernet from Bra #1. The fabric was way more forgiving and because it was silver/gray, I could see and rip my seams out a lot more easily. When I got to the point where I could try the bra on though, the back barely reached across my shoulder blades; it was definitely too small, and I wondered if my powernet wasn't stretchy enough and that's why it wasn't meeting all the way across my back. I was so disappointed, but not far enough along in the process to merit taking the bra apart to fix it. I 86'ed it and started from scratch.
Bra #3 was made of milliskin fabric as suggested in the Cloth Habit sew along (which by this time had been posted). It wasn't my favorite material, but it was the easiest to work with of the three. It's a little heavier/denser than I would like; more like the weight of swimsuit lycra than lingerie. But I was still knee deep in the learning curve and I didn't mind experimenting with this new fabric. This time I went up a size in the bra in the hopes that everything would fit better around the rib cage, and I also made my band out of two layers of the cup fabric instead of the powernet. I was so convinced that this would fix the problem that I didn't bother trying her on for fit before I finished her. So when the moment of truth came, you can imagine my annoyance at my own optimism. This time the bra was gorgeous, and it fit, but not well.
I could clasp it in the back, but it was not comfortable, still just a bit too tight to actually be wearable. I tried all sorts of things to get it to work without taking the entire thing apart. I added two pieces of powernet to the back bands where the bra clasps were to give it more length, I pulled the elastic a little tighter when sewing it to the edges for the second time- eventually I even bought a bra extender to give it more room in the back. Unfortunately, none of those things made it more comfortable. But at least now I knew exactly what I needed to do to make the pattern work. Started over from scratch. AGAIN.
Bra #4 This time I made the cups/cradle/band out of the same 4 way stretch jersey lining that I liked so much, and I stayed with the new size but I altered the band pattern piece by adding about 3/8″ to the length.
That did the trick. You would think that after 4 tries on the same bra pattern I would be able to sew the thing practically in my sleep, but no- I still made some ridiculous mistakes. The most time consuming one was when I topstitched the cup seam in the wrong direction and had to rip out the tiny straight stitches, destroying the fabric on one of the cups. So then I had to remove that cup and make a brand new one and then sew the new one in and then topstitch it again in the right direction. BUT, my patience paid off because once the bra was complete, it fit perfectly. And not only was the fit great, it was also COMFORTABLE. It offered the kind of support that a good bra offers without feeling like you are wearing a bra, the fit I have when I wear a well made, light weight sports bra, but prettier, and without the uniboob effect. FYI, this bra does not have underwires or padding so it might not provide the support or oomph needed (or wanted) for people with a larger chest.
After my four bras, it was time to make a matching panty. After all, that was my main goal from the beginning, to have a pretty bra and panty set that didn't cost a fortune in case I never actually got some good wear out of it (and also because I have a million other things I would rather spend a fortune on than a bra and booty cover). Bikini panties are my least favorite underwear to don aside from the dreaded thong, so I altered the pattern a bit, adding more coverage in the back and bringing the leg openings down so that they were not so high on the leg. The alterations worked out perfectly and I was pretty thrilled when they were complete. The instructions included the use of tension when sewing the elastic to the knit fabric, so they didn't rip apart when I tried to sew them on and they were comfortably snug without being too tight. I wore the underwear and panty set together as soon as they were complete, and I kept smiling to myself all day long at how great they felt underneath my jeans and sweater.
As you can see from the pictures, I used a nude colored fabric and pink elastic, which I dyed myself. I have found a lot of great websites that offer the notions necessary in bra making, but unless you are shopping for all white or all black, it's tricky to find the right sizes in the color elastic you need.
The Watson bra and panties call for 4 different types of elastic, and although many websites offer really beautiful colors in one or two types of elastic, it's hard to find the same color in all of them, so unless you buy a kit that comes with a certain look/design and all the right types of elastic you will need for a pattern, dying is definitely the way to go. It's also a lot cheaper than the kits (although the kits can be really awesome with hard to find fabric and color combinations you would never have been able to put together for yourself). I was going for a dusty rose with this batch of dye, and I got a pretty and bright colored pink instead, but I don't mind. I don't dye fabric often, so this, too, is a part of the learning curve for me. Plus, I LOVE virtually any shade of pink.
After the success of the Watson Bra and Bikini pattern, I started to look around for other indie bra patterns on the market. There are lots of patterns available to purchase online, and sewsassy.com has a decent collection of patterns available, as do a few other bra and notions supply companies, but I was drawn to Ohhh Lulu for pretty obvious reasons. She sells her patterns on etsy as PDFs, and her patterns are not only vintage-inspired, but also true to vintage functionality, often made as replicas of vintage bras using the same types of materials that were available back then, before mass produced 4 way stretch knits were affordable and available to the public.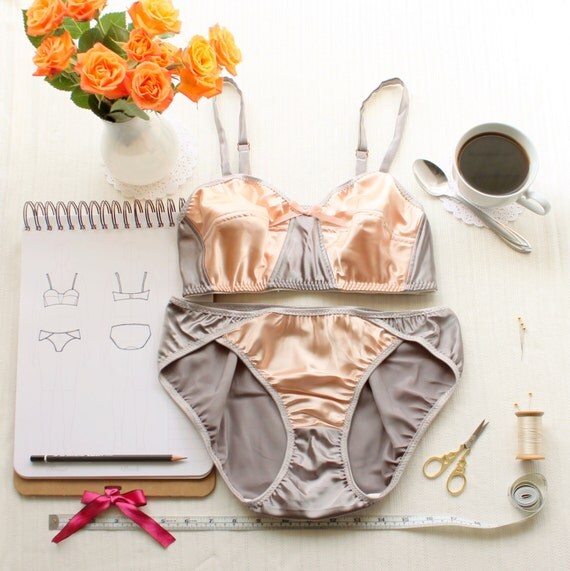 It was hard to pick just one pattern set to start with because they are all SOOO BEAUTIFUL, but I ended up deciding on the Lili Bra and Rose Panties patterns to start. As compared to the Watson bra, this is a much quicker make, perhaps because it is considered a bralette and doesn't have as much structure to it as the Watson bra does. The most intriguing thing about this pattern is that it calls for a woven fabric that is cut on the bias as opposed to a 4 way stretch knit. It doesn't really get any more authentically vintage than that, right? The cups, sides, and front center are lined with a lightweight knit fabric, and these patterns are pretty awesome in that you can use up a lot of your scrap material to create them. The only thing I purchased for this make was foldover elastic- everything else I already had tiny bits of in my fabric stash.
My first attempt at this bra used a cream colored woven silk that I had 1/2 yard of, and sewing it up was quick and easy- the instructions were clear and there were great pictures that accompanied the pattern booklet. I tried it on and it fit on my body, but it just looked too small- the cups were doing this boob-squash thing where, since the cups didn't really stretch much because of the material they were made of, they made my boobs flatten to fit inside them. It wasn't the most flattering but it also wasn't terrible- it was just kind of meh. So I decided to make the bra again, this time going up a size (I had actually read a couple of reviews on etsy from people who needed to go up a size to get the right fit despite what their measurements called for) and trying a different fabric, one that was suggested for the pattern. These two changes were the bingo. In addition to the stretch lace overlay I used in the first bra, I also used a gold sateen, which already had more give on the bias than the silk I initially used, and when I tried the completed bra on, the cups fit beautifully without scrunching my boobs down at all. This is probably not a functional bra for super busty people looking for good support in their undergarments, but I was surprised to find that it worked fine under my clothing- I guess I thought it was just gonna be a pretty wear as opposed to a functional wear. It's not the kind of bra I would wear under a slim fitting blouse or dress- the bralette doesn't really lay flat because the fabric isn't a stretchy knit, so it doesn't cling to your body, and it has more bulk in certain places at the seams than the Watson bra does (think of a sleek sports car compared to a beautiful vintage convertible). But under a sweater or loose button down or a billowy shirt? Works great!
Finally, I made the panties in the Ohhh Lulu set, and they were not as successful as the bra was, but I think that's all my fault. I should have taken a cue from my experience with the bra and gone up a size; I didn't and the panties are a little on the too-small side. They are also tight as shit in the waistband and the leg openings- this being my first encounter with foldover elastic, I didn't realize that the stretch was different from lingerie elastic, and I should have used less tension when sewing it to the edges. All in all, I am not a HUGE fan of foldover elastic- I would say I am much more inclined to use lingerie elastic, so I think I will make a go of these panties in a larger size and with my preferred elastic type.
The fit of these panties is not as great as the Watson bikini pair that I made, and I don't like the look of panties with such a high cut leg, but I am so in love with the crossover detail on the front that I am willing to put the work in to make them perfect for my body. I used the stretch lace from the bra overlay for the back piece of the panties, and I love how they turned out, so I will use it again for the next pair I make. My next project, after I refine the design and fit of these babies, is to buy some more of Ohhh Lulu's panty patterns that call for a woven/knit combo of material. She has some truly gorgeous designs, and I am ready to have a couple of tried and true panty patterns to pull from for whenever I have extra hours in my day and feel like making something quick and easy.