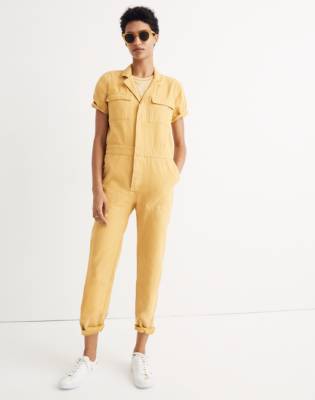 Heather Lou of ClosetCasePatterns posted a selfie a few months back wearing a version of the above jumpsuit that I immediately fell in love with (although I am realizing more and more lately that I sometimes might not be in love with a garment so much as in love with a garment on someone who looks amazing in it, if that makes any sense). Anyways, I did a little research and found the jumpsuit on Madewell's website and decided that I could reasonably make it for myself with a bit of pattern hacking. Although Madewell is a really great clothing brand in terms of transparency with their customers and sustainability, I must admit that buying RTW does not provide even a fraction of the thrill for me that it once did. I much prefer making my own and figuring out ways that I can recreate a garment myself based on what I see online and in stores, and I am sure that much of this stems from the fact that I can GUARANTEE you that this jumpsuit would look awful on me right off the hanger.
I pinned images of the jumpsuit to my pinterest page and set out to find a sewing pattern that could easily accommodate the main style lines of the jumpsuit. In the midst of doing this research, my Dad was in town and we went to the mall to buy him some sneakers. I rarely go to malls nowadays so I had forgotten that there was a Madewell store there, and once we walked by it, I figured we could hop inside so I could see the jumpsuit in person and get a better understanding of the garment's construction. The store was small and it didn't take me long to see that the jumpsuit I was looking for was "so last season" lol and had now been replaced by late summer/early fall garments. We were about to walk out when a different jumpsuit caught my eye. It was a similar idea to the original one I was looking for, but, dare I say…even better suited to my tastes and body!
The waist was cinched with elastic at the back and drawstring ties at the front, the legs were wide and cropped (which is my favorite pants style right now), and it had nice big buttons on the front and top stitching all over. I didn't bother trying the jumpsuit on because I didn't want to base my make off of the fit of an existing garment (which would most likely have been ill-fitting)- I would rather start from scratch and just incorporate the design elements into a fresh look inspired by the RTW garment. I decide to use McCalls 7330 to base my make from, but it took a lot of adjusting and hacking to get it exactly how I wanted it.
This pattern comes in Small/Medium/Large and I graded from a small at bust and waist to a medium at the hips (but later end up taking the pattern in significantly at the waist and high hip so the grading out wasn't necessary). Major hacks/changes to the pattern included:
adding width to the legs and cropping the length (I based the shape of the pants legs off my Persephone Pants)
using View F of the pattern with 2 piece collar and extending the length of the collar so that Iit could accommodate…
…an extended front button band (because I wanted my button band to be wide like the inspo jumpsuit)
reshaping the bodice front piece and adding a facing that extended from the bodice fronts down to the crotch (I based these design elements off of my Republique du Chiffon Domonique jumpsuit that I haven't yet blogged about)
using the shape of the front pants pockets from View A but making them wider and longer to look more like the inspo jumpsuit
omitting the waistband, and adding that length back to the bodice and pants (which I ended up taking out, but more on that later)
adding a casing to the inside of the back waistband (to house the elastic) and the outside of the front waistbands (to house the drawstrings) on either side of the bodice opening
adding drawstrings for the front waist
Seems fairly simple now that I am writing it all out but everything felt much less straight-forward while I was making it. I made the majority of these changes to the bedsheet muslin I sewed up first, and once I was happy with how it was looking (or could look with a few more tweaks), I cut out my fashion fabric. Now a word about my fabric: I bought about a yard and a quarter quite a while ago while on a trip to Joann's looking for twill fabric to make some more CCF Sasha trousers. A good stretch twill isn't always something I stumble on when shopping at my main squeeze fabric stores so when I saw the pretty salmon color of this fabric I immediately put it in my cart. Of course when I saw the Madewell jumpsuit in a similarly colored fabric, I decided to take fabric inspo from it, but I didn't have enough yardage.
I cut a little swatch of my already-washed twill from my stash and brought it with me to Joann's, hoping I could find it again, and I did! I bought another yard of it, took it home and washed it. Then I pulled out my two separate yardages to start cutting and…the two pieces were from different dye lots. L O L, immediately followed by an EYEROLL. The difference between them was very subtle, Claire couldn't see it all, but of COURSE I could. I decided to cut out the pants from one of the pieces of fabric and the top and sleeves from the other, so that at least the fabric would all look the same among the separate halves, and I cut the bodice pocket out of the pants fabric to try and pull it all together. Now that it's complete, Claire says she still can't see the color difference, meanwhile the garment looks practically color-blocked to me, haha.
The main changes I made to the garment all seemed to work really well, but perhaps because of the difference in textile from muslin to fashion fabric, there were still some issues. The salmon twill version was still too long in the torso, even though I had already chopped off about 2 inches from the pants and bodice. Thankfully my top and bottom pieces were still basted together at this point so I was able to take them apart and chop off even more from the bodice, but the completed version is still about 3/4″ too long for me, so if and when I make it again I will try and address that. The crotch also ended up being too long and sagging down in a weird way between my legs so I brought the bottom of the crotch up at least 1/2″ more, too. Honestly, the weight of this twill is a little heavier than I would like it to be (it's also heavier than the inspo jumpsuit) and I am really looking forward to making this again in maybe a linen or cotton blend fabric that makes it a bit airier and lighter.
Another thing I am a little on the fence about is this collar, and I think it also has to do with the weight of my fabric- it feels and looks more like a jacket because it's so thick and sticks out a bit from the body. The design of it is cute, but I think that for this fabric I should have made a one-piece fold down collar instead of the two-piece collar (the RTW jumpsuit is a one-piece). But in a lighter weight fabric, the collar would have looked just like a nice button up shirt collar and would have probably laid down much more neatly. As it stands, the collar looks a bit like it's making a statement, and I'm not mad about it- although it's not what I was initially going for, I do think it's cute and very much in line with the grandma-chic vibes that the rest of the garment gives.
Overall, I am really happy with this make and impressed with how it came out- I have rubbed off RTW clothes before but never have I started from scratch with the design of a RTW garment and tried to turn an existing pattern into a replica of it. It was really fun, and I would definitely do it again!
Thankfully there is a pattern out in the world for pretty much everything you could possibly find in a storefront window, so that makes the job easier- and I know there are at least a couple of instagramming sewists out there who are dedicated to matching patterns with RTW garments (I keep forgetting their handles but I definitely need to follow them). Still, I felt like this was a very challenging project that I learned a lot from, and it has inspired me to keep testing the limits of my knowledge and learning more. And the BEST part? I just got asked to be a pattern tester for a new pattern that is practically the spitting image of the original yellow Madewell jumpsuit that I first took inspiration from. So it looks like I'm gonna be able to have my cake and eat it, too!