Before I begin this post, I just want to take a moment to make my position very clear- I am a staunch proponent of #blacklivesmatter #blacktranslivesmatter #disabledtranslivesmatter and #defundingthegoddamnpolice. I am so worn out by the last couple weeks and I have tried to use my social media platforms as much as I can to share information on anti-racism, dispel harmful myths about blackness, shine light on the effects of white supremacy, and uplift the voices of my black, queer community. At this point I am exhausted from having these dialogues and dealing with the ignorance that is par for the course when we start talking about why black lives matter, so I don't have much energy to write anything very eloquent here right now (other than this blog post that I wrote weeks ago and am only now getting around to posting, haha). My website will not be a space for debate or "conversation" with white people on why black lives need to be protected and police brutality needs to finally, FINALLY, end. You are either on our side, or you are in the way. I expect that I will write more on this at some point in the future, but 'til then, if you are not an actively anti-racist person, please feel free to begin the journey of defunding your own personal white supremacy/anti-blackness and seeking out information to enlighten your mind, your heart, and your spirit…anywhere but in the comments of my post 🙂
My inspiration for this jumpsuit came directly from themindfulsewist, who used FibreMood's Carmella Jumpsuit as a starting off point and ended up with this beautiful thing!
https://www.instagram.com/p/B58fVDaAroa/
My jumpsuit has a slightly different fit than hers (which makes me want to give hers another go at some point) but I still love how mine came out. I already had so many similar jumpsuit patterns in my stash that I couldn't bear cutting a new one out and figuring out all the alterations, so I combined 3 or 4 patterns to end up where I did, with a slightly loose-fitting, cropped legged jumpsuit. I started out with the pants of the Intrepid Boilersuit Pattern from Alice & Co that I tested a while back, then I added the Leah Jumpsuit pattern from FibreMood (I hadn't made this pattern before but liked the collar and boxy but not-too-loose bodice). Next I used the popover button placket from the Kalle shirtdress to create that beautiful front button band, and I think there was a little taste of a McCalls jumpsuit pattern in there…but I can't remember exactly where- maybe in the crotch curve of the pants? lol)
Anyways, it was a real Franken-sperience putting it all together, and I didn't quite nail it. Aesthetically it's great, but fit-wise I really don't like the bodice. The arm holes are too low and I hate that webbed underarm look in garments where it seems like your arm and torso are connected. It's not uncomfortable, but I like the fit of the arms on the Intrepid Boilersuit much better. Additionally, I'm not super pleased with the crotch depth- it's just a teeny bit too short and has a tendency to ride up when I first put it on (versus once the linen has relaxed a bit). That part is all my fault- I usually leave like, a whole inch in the seam allowance of the waistband so that I can adjust the fit as necessary, but because of the order in which I sewed the button placket in relation to the rest of the garment, I had to make a decision on length before I was able to fully try it on, and I cut myself a little short.
The popover placket is one of the things that really drew me to themindfulsewist's jumpsuit- it looks so finished and modern with it, much more interesting than the standard button bands I usually tack onto the front. And I always hate figuring out how to finish the bottom of the normal placket where it attaches to the crotch seam. Mine just never seem to turn out very clean. But this one looks great! Unfortunately, because I was hacking so many different patterns together and wasn't following any one set of instructions, I painted myself into a bunch of weird corners in the process of sewing this. I got myself out of every single one of them, thankfully, but watching me figure all the details out in real time was quite the sight!
This was mainly because I really liked the popover button placket technique for the Kalle shirtdress and didn't want to draft a new one for the jumpsuit; I essentially just took the popover pattern piece, lengthened it to fit all the way from the neckline to the crotch, then followed the instructions as written. Since the popover placket gets sewn onto a flat, uncut bodice front (you cut the placket open during construction after it's been sewn and stabilized to the front piece), this meant that I needed to sew the waistband before I sewed the placket, but sewing the waistband on first meant I also couldn't try it on for fit adjustments (it's a woven garment, so a closed front meant I couldn't try it on until after I had already made the placket). I solved this by doing some very weird clothing yoga where only half the waistband was sewn so I wouldn't have to unpick the WHOLE thing in case the fit was off, and then I just kind of held the bodice up to my body with my legs in the pants and eyeballed where the shoulders hit, lol. It was bizarre! And inexact! As I said earlier in the post, I could have given myself a tiny bit more room at the waist to create more room in the crotch and more of a bloused effect, but it's not uncomfortable so I am not stressing too much about it. Again, the garment is made of linen, so it softens and stretches out quite a bit after some wear.
Speaking of the fabric, WOWZA, amirite? This is a stunning vintage washed linen from The Fabric Store in the most beautiful blend of green, brown and yellow I could imagine. Mustard is in my color palette (obviously!) and I think it's brilliant, one of those colors that doesn't say much when by itself, but when worn against brown skin, it just sizzles.
So you may be asking, what the hell is going on with those pockets, lol. I loved the pockets from the inspo make- extra big patch pockets that took up practically the whole thigh. I waited to draft the pockets until after the majority of the jumpsuit was constructed so I could make sure I got the proportions correct, but once I got to that point, I realized I had very little fabric left and I still needed to draft a belt. At some point I was standing in the mirror with a pocket pinned to one leg and a scrap of fabric held around my waist for the belt, just trying to visualize the proper placement. The top of the pocket and bottom of the belt were hitting at the same place on me, and when I lifted the pocket just a touch to be even with the belt, I got this interesting apron effect with it. I wondered if I had enough fabric to make this apron idea an actual design feature, and after a little puzzling around with my tiny scraps, I figured it out.
I would have loved to have even more fabric so I could make the pockets bigger and wrap the apron/belt tie around my waist more than once, but I am totally satisfied with how this came out and I think it looks so rad. I can't explain why it works, it just does, and honestly those are some of my favorite moments in making clothes. I have only a basic understanding of color theory and would consider myself only an intermediate sewist, but when things click into place for me without any rationalizing, when I'm just overwhelmed by a moment of "THIS LOOKS SO RIGHT!", I feel rejuvenated! Because there isn't really a science of style- we all have different tastes and we like what we like, and when I put these pink memade mules on with this brownish yellow ensemble, I can't explain to anyone why it works, I just know that it makes my heart beat fast when I see it. And I really want to hold on to that, hold onto being motivated by my own tastes instead of what I think I am supposed to like, or what advertisers and marketers assume I will like based on my demographic.
So yeah, here I am inspired by a jumpsuit that I didn't quite end up with myself, but one that I love nonetheless. And truth be told, I will probably give my inspo jumpsuit another try in the very near future- after having hacked about 3 jumpsuits from different pieces of different patterns, I am ready for a regular old run of the mill pattern that will need much less work. My guess is that the new Closet Case Patterns Bianca Flight Suit is gonna work out well for me since all their other patterns do, and Heather always does a fine job of sharing smart ways to correct fitting issues along the way! So far, jackets and jumpsuits have been my sewing mainstays (did you know that I will have made SIX JACKETS in the past 6 months?!?!) and I don't want to ruin a good thing. Speaking of jackets…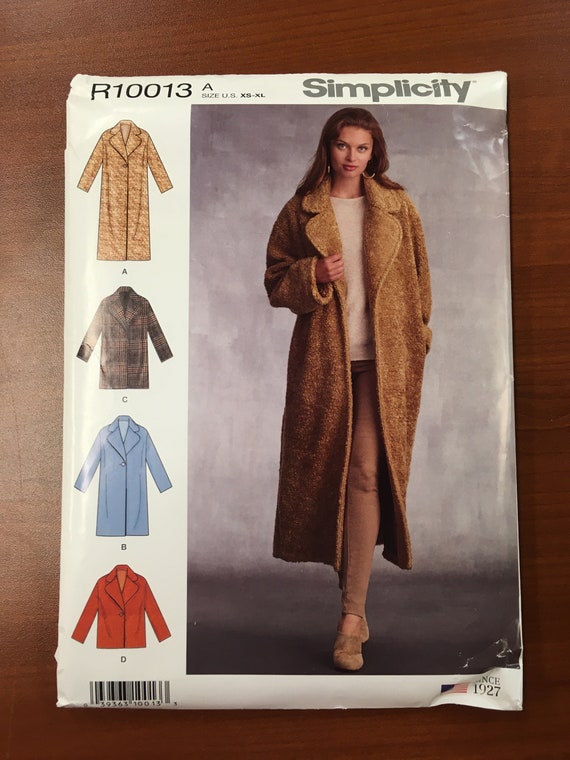 There isn't a whole lot to say about this one- making it was a last minute decision because I had acquired the pattern (Simplicity R10013) on my hunt for a different coat project which I ended up not using it for. It is a very simple and quick pattern to put together, no real shaping, no lining (although I ended up adding one), and no special techniques required. It's a great pattern for a newbie but doesn't offer much in terms of style- it's baggy and boxy even in the XS I made. I think the only reason I like it is because the fabric is so dynamic. The fabric is actually the wool suiting that I planned to make my Jasika Blazer out of, which, FYI, is on it's way to the blog, I just need better photos of the jacket first. Once that post is up, you can read all about why I discarded the fabric in favor of something more stable and thick, but thankfully I figured out another way to use it. It's actually pretty terrific as a warm weather jacket- the wool suiting is so light that it's almost floaty, which is why I decided to line it with white dupioni silk from my stash- it needed a little more heft to ground it. Again, it's not the most interesting jacket in the world, but it's gonna be a dream to layer over things when the weather gets cool again; thankfully the window pane check gives it all the drama it needs.
You might recognize that this icy blue color is not in my autumn palette (one of the other reasons I decided not to make a blazer out of it!) but it pairs beautifully with this mustard yellow and also with other oranges and browns in my palette, so although I haven't had many opportunities to wear it yet, I think it will be a nice addition to the outerwear portion of my closet.
FYI, shoes are memade suede mules that you can read more about here. Thanks as always to Claire for the pretty pics, and thanks to you all for continuing to show support and love for me and my black community!