WOOHOO! How y'all doin?? If you follow me on instagram, you know how…special…my experience with CATS the movie was. I'm not here to argue with anyone about whether or not CATS was good. I have been around long enough to know that art doesn't have to be good to be entertaining, and I was NOTHING if not entertained! One of the strong takeaways from the film (and there were MANY takeaways given my state of mind, lol) was Judi Dench's Cat/God character wearing this gigantic honey blonde colored coat that seemed to be made out of cat fur. Like, she had her own cat fur…and then she wore a coat on top of her own cat fur made out of what looked like…other cat's cat fur. At the time I couldn't stop thinking about Silence Of the Lambs, how this was the equivalent of a human wearing a trench coat made of human skin, and how, since she was a Cat/God, the coat was probably made out of all the furs of her enemies. Which is…so weird. But perfectly suited to the rest of the movie which was also…so weird!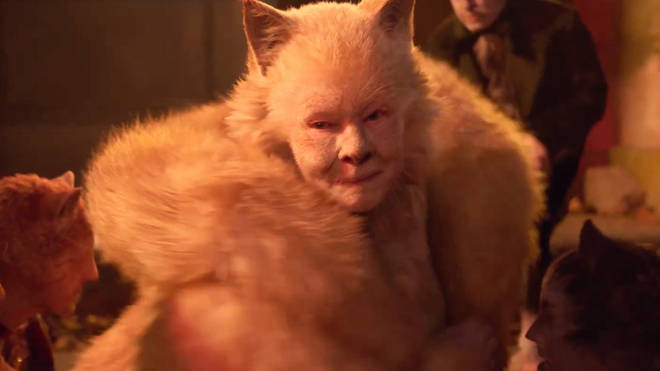 Anyways, when I started making this coat, I realized that it drew a fashionably striking resemblance to Judi Dench's costume in CATS, which tickles me to no end! I originally got the idea for this coat after trying on a jacket at a store in Vancouver last summer.
You can see these fleecy furry coats everywhere now, but at the time they were brand new to me and I absolutely loved how unique it was. I loved the texture of the sporty, wooly fabric paired with a more traditional cut of coat, and I loved the curved hem at the bottom. I would have been happy to buy this RTW jacket since it was such a special piece but it didn't fit well (see how long it is in the sleeves?), it was too expensive for the quality, and it was made of 100% polyester. I knew I could do better than that- it didn't seem like a particularly difficult hack to pull off- no lining or surprising design details or anything.
I found the pattern before I found the fabric. I think I asked the IG hive for any pattern ideas they might have based off this photo, and IG totally came through- the Stacker jacket pattern by Papercut seemed like the closest thing to what I was looking for, and hacking would be super easy- I just needed to lengthen it and curve the hem (I also made it a slightly hi-lo hem). It took longer to find the fabric.
All I could find was 100% polyester fleece or sherpa, and the places that did sell organic cotton fleece tended to not have enough fabric for my project or only have it in colors I didn't want. Eventually I found a place called Simplifi Fabric based in Canada, which is an online fabric store that specializes in organic and sustainable fabric by the yard. I love them! In addition to all kinds of organic cottons and bamboo and denim and ribbing in their online shop, they had a few different colors of a sherpa fabric that was mostly organic cotton with a little polyester in it, and after being indecisive about which shade I wanted, I went with the earthy-gray toned sherpa (I was initially drawn to the ivory shade but I knew it would probably get dirty pretty quickly).
The fabric was super soft, softer than I anticipated, and squishy and cozy. The back of it is flat and non-furry, and seems to be more like a knit- it kind of looks like  the inside of french terry on the back, actually. It has a little bit of stretch but not enough to make any big alterations to the sizing. The pattern was straight forward and construction was easy- I serged my inside seams since I knew I didn't want to line it and they were too bulky to french seam (wasn't interested in Hong Kong seaming either). I turned up the bottom hem and used my coverstitch to tack it down, not that you can tell- the texture of this fabric eats up any top stitching which means you don't get much room for detail, but it also hides away any imperfections. The fabric was super easy to work with- the seams were certainly bulky, but it was stable, not too messy (nothing like velvet or sequins) and my machine needles had no problems working through several layers at a time.
I didn't run into any issues at all except the normal problem solving that comes with hacking a pattern, haha. I constructed my yoke with two pieces instead of one, because even though the fabric isn't super heavy, I wanted the shoulder area to feel nice and stable with all that coat length pulling down on it. I had a little bit of confusion about the construction of the pockets at the front of the coat- there are two different versions and I didn't realize I was following the directions for a specific one til I was halfway through it, haha. Turns out, I wasn't making the pockets I intended to make! In addition to that, the original placement of the pockets was off on this coat- probably something to do with the new length and the fullness and texture of the fabric, but my original choice of breast pockets looked strabnger and bulky. I scooted them down to hit around hip length (which is where my hands would naturally fall if I was using side pockets. Ultimately I think I would like this coat better with regular in-seam side pockets in addition to the patch pockets on the front, but it's all good!
I found some beautiful buttons from Michael Levines and I think they work so well with the coat- they elevate it a bit from looking like your average athletic-wear fleece jacket into something a little more refined.
And…I guess that's it! A super simple garment that has a pretty major impact- I got a compliment on this coat by a salesperson in SAKS recently, who, upon finding out that I made it myself, immediately started scrutinizing it and asking to see the insides, lol. I hate when people do that- just appreciate it and move on! Sometimes people are so shocked when you tell them you've made something impressive that they start looking for flaws anywhere they can find them, telling themselves that you can't be THAT good (it happens with men examining my woodworking ALL the time!). Well guess what- we can and we are!!!
Hoping I can get some more good wear out of this thing before LA heats up to the oven setting that global warming has turned it to. Anybody else so ready to be on the other side of this election with an amazing, exciting and inspiring president in office?? I can't bear to deal with all the upcoming stress and anxiety of it, but I am SO ready to celebrate some good political news!
Keep on keeping on, y'all! And as always, thanks to Claire for this pics!