(side note: I did a slight trim of my hair about a month ago to give it some more body around my face and I now that I am seeing these photos I took before the trim, I am already regretting losing the length I had in these pictures, lol- THERE IS NO WINNING WHEN IT COMES TO MY HAIR LENGTH!!!)
ANYWAYS. Back to the make.
I'm not sure what inspired me to make this dress- it wasn't a pinterest image or someone walking down the street in an amazing ensemble that caught my eye. It was more a project of convenience- my stash fabric had grown considerably after The Fabric Store in LA closed down, and I was able to bring home lots of beautiful cuts of fabric and leather at deeply discounted prices as they cleared their inventory. A lot of pieces came home with me even though I didn't have specific project ideas for what to do with the fabric, and this cotton plaid is one of them. I liked it because of the color palette, but the hand of the fabric is…interesting.
It's not exactly rough, but it isn't soft either. It kind of feels like paper, and it's surprisingly lightweight considering how it looked on the roll. I assumed I would make a button down shirt from it, but when I pulled it out of my stash to find some inspiration, I realized I wanted something a bit different than a shirt- I didn't really need another button down in my rotation. I knew I had just enough fabric to make a shirtdress using a pattern I had made before with this Velvet, Gold and Pussy Bowed make from last year, so I pulled out my pattern pieces and got to work.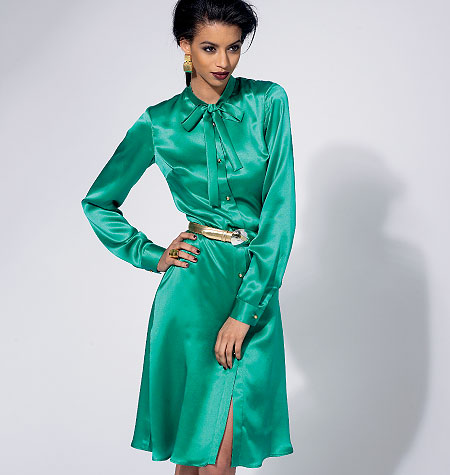 For the velvet dress mentioned above, I had to make some adjustments to Vogue 8829  because the pattern calls for a woven and my velvet had stretch. I also made adjustments for all the extra ease that was included in the pattern, so on this make, I had to re-trace several pieces of the pattern as they were originally drafted to accommodate my woven plaid. There is a ridiculous amount of ease in the waist of this dress that was present even after I sized down and took in the side seams a bit, so I created a sort of box-pleat in the back of the bodice to size the dress down even more and I was able to adjust the skirt pieces accordingly.
Because this is a plaid fabric and I already had a limited amount of yardage to work with, there is a LOT of piecing together and pattern mis-matching at play here, but it's nothing so glaringly awful to me that it makes the dress unwearable. The button bands and belt were pieced together from like, so many tiny remnants of fabric I had left after cutting out all the major pieces, but because it's plaid and kind of busy, you can't really see the details of it too much unless you look close, and looking close makes it seem a bit like an artistic choice!
Speaking of the belt, this was something I made for the dress of my own accord. Even after adjusting the back bodice piece and the side seams, the waist was still a bit looser than I would have liked, so I decided that adding a belt would not only help keep the waist nice and firm on me, but it would also give the dress a visual break at the waistline- the dress without a belt looks fine on my gold stretch version, but this one needed something to break up the flow a bit.
Instead of just creating a long fabric belt and belt loops, I decided to use a design element that I loved from my The $34 Dress and I sewed the middle of belt onto the dress at the back waistline to keep it in place. This means of course that I can't wear any other belts with this dress, but I am 100% fine with that; I am not much of a belt (or accessories in general) kind of person and 9 times out of 10 I prefer to use a fabric belt made of the same material as my garment.
As a whole I am…fine with this dress, lol. I have worn it a few times now and it feels like a good staple to have in my closet, but I am still not crazy about the fabric. I love the print, but as mentioned before, something about the texture/hand of the fabric is a little off for me. I wish it was a little more supple and soft- something closer to a brushed cotton or a flannel (without the heavier weight) would be great. It works really well for a warm weather dress since the fabric is so breezy and lightweight, but the design and print visually seem more fitting for a fall/winter garment, so it seems to be crossing into different territories without landing firmly in either one. Regardless, I know I will continue to get good wear out of this dress, and I appreciate being introduced to this style of garment as a closet staple- now that I have a button down dress of this length and silhouette, I definitely want to add another, perhaps in a longer length and with a fuller skirt? We shall see what the new year brings!