This shiny animal print fabric had been at The Fabric Store for quite a long time before I finally felt brave enough to give it a try, and that was only because I had successfully completed this sequinned dress first. It's so different than the black and gold reversible fabric I had used before and it was pretty educational to see and feel exactly how different the two types of sequins were to work with. My black and gold fabric was stretchy and required zig zag stitches to construct it, but this fabric is made with a silk-type (probably polyester) woven fabric as the base that has the sequins sewed on top of it in rows. While I am not normally into animal prints, the shine and pretty colors in this one really drew me in, and I opted to go for a simple garment pattern to highlight the print, much like my last sequin make.
I have to say, I am not crazy about how this dress came out, but that is all due to the pattern choice. For some reason I chose Named's Inari Dress/Tee pattern, even though I had made it before and hated it (it never made it here to the blog cause the fit was so awful). I figured that this time I could make some adjustments to the pattern pieces and fix the fit issues I initially had, but in hindsight, I should have simply chosen a different pattern. I hate wasting patterns! Anyways, the Inari dress is drafted to skim the figure with a loose fit in the bust and waist that slightly dips back in at the thighs, and it just doesn't suit my bottom heavy shape at all. It didn't feel comfortable to walk in when I first made it and I didn't feel like it looked very good on me. To adjust the pattern pieces this time around and give myself more room in the butt area, I added a couple inches to the sides of the front and back pattern pieces, flaring them out a bit from the waist. It definitely fits better than the first time I made the pattern, but it's still not great- I think this dress would have looked much better if it flared out from the bust and I had eliminated the side slits, giving it a more swingy silhouette.
Don't get me wrong, I don't think it's terrible, and I know I will definitely wear it, but I wish I had challenged myself more after the first sequin dress and played around with a different look. Looking at these photos I feel like this would have looked great as a fitted miniskirt! I have no idea if there is enough fabric to accommodate refashioning it as such, but I might give it a try after wearing this incarnation a couple of times.
The fit bothers me mostly in the back where the amount of fabric in the shoulders and waist seems to be disproportionate to the amount of ease provided in the hips. I don't like how the fabric falls from my shoulders and then collects on the top of my butt. Wearing a slip underneath helps keep the lines a bit cleaner, but it still doesn't feel good. And I like to wear clothes that feel good! I feel like I am swimming in fabric on top whereas the bottom of the dress feels comparatively tight.
Since this fabric is woven and not stretchy, it did make for slightly easier construction. I still used an upholstery needle to sew the side seams, but was able to use a regular straight stitch for them instead of zig zagging, and I was also able to fold over and sew the hems down onto the fabric without it bunching up and looking puffy. Like the black and gold dress, I encased the side, shoulder and sleeve seams with bias tape, and I also sewed a length of bias tape to the raw edges of the hems before sewing them to the inside, since the sequins on this dress were even more scratchy than the black and gold one. 
This style of this look feels very 80's to me (hence the above pose), which I kind of like. In general I am not for the poofy shoulders and over-the-top silhouettes that embody that era, but I do love the bold prints and weird color combinations that were so popular, and I like pairing those qualities with more modern design features. In that respect, this dress is a success! But I dunno, I'm still interested in reworking this into something that feels a little more me, and turning this lesson I learned into something wearable. I keep thinking of that Rachel Comey for Vogue short skirt that everyone has always raved about (despite the drab and dated styling on the pattern cover, I've seen some pretty great renditions of it by several bloggers)…I bought it on sale a while ago but haven't found a suitable fabric to make it in. Maybe this is a match made in heaven?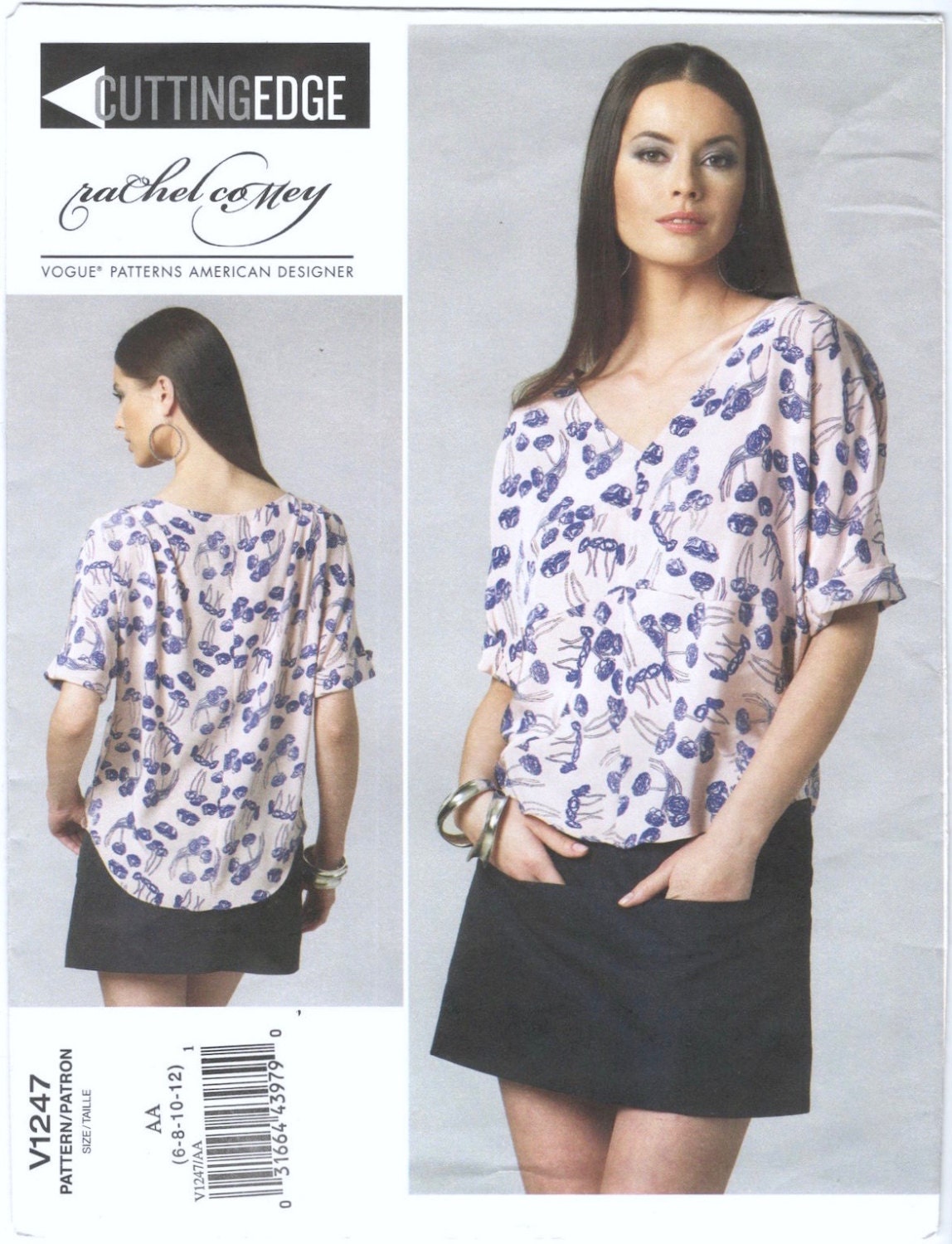 But also probably not anytime soon? What with being so behind in my sewing queue and needing to take pictures and blog recent makes (for the past few weeks I have been dealing with both a very serious family emergency and a trip to Costa Rica for a destination wedding/vacation and I am just now back home trying to get my life back together), this potential project isn't very high up on the list. But who knows, I might just surprise myself and dig into it sooner than later; I'm finally sewing up Rachel Comey's Vogue 1501 and I'm loving it so far- maybe I need to stay on this Rachel Comey kick?!