I don't want to bore anyone with my tales of woe regarding Burda Patterns, because I know it's not a solitary camp of one. I've read your blog posts about your love/hate relationship with them; I relate to how easily you fell for their dazzle and glam and gorgeous designs, and how disappointed you were when you read the instructions and realized that they were severely lacking…that they were missing some steps…that they might have even been missing some pattern pieces (true story). I have vowed off and on over the past few years to never buy another Burda pattern again, yet I have a collection of at least 20 unmade Burda PDFs in a folder on my computer, just waiting for me to feel weak and desperate enough to take another plunge into that dark abyss. Despite my issues with Burda, I find them to be a source of endless inspiration, and I have seen far too many beautiful makes by seamsters way more patient than I to write them off completely. But they get a lot of side-eye from me. So. Much. Side. Eye.
A few years ago when I was getting into sewing a lot and I hadn't yet discovered that Burda patterns were an accurate depiction of my own personal hell, I  chose a gorgeous long dress pattern with a beautiful open back and lovely cap sleeves called the Open Back Dress 03/2013 #111.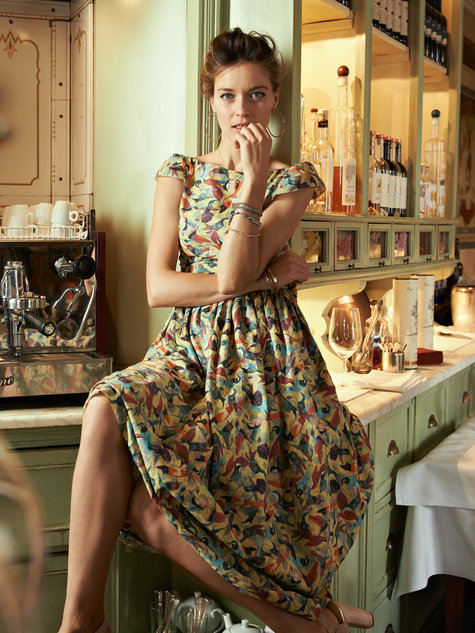 The look was feminine and flirty and romantic, or at least that's how the styling for the model was on the accompanying photo. When I pieced together my 100 sheets of printed paper and finally got to cutting the pattern out, I noticed that the skirt pattern required about half a mile of material at the waistline which was supposed to be gathered. I was worried that all this fabric would create unnecessary bulk at my waist and swallow me up, so I cut the skirt pattern down to half  it's size in a gradual A-Line, and I felt proud of myself for catching this design flaw. This should have been a red flag right here, but instead of examining all the other parts of the dress to make sure they would work for me, I just kept going.
Construction was a nightmare: when I finally sewed all the bodice pieces together and tried it on, it gaped at the sides, but also needed way more coverage for all the side boob that I was showing (and I don't even have that much boob in the first place). The front of the bodice seemed to float away from my body instead of laying down properly against my bust and I thought that carefully sewing bra cups into it would give it some shape but it didn't at all- it just made it feel bulky.
The bodice was so ill fitting that it pulled the skirt up in the back at the waist, so the bottom of my skirt drifted up higher behind me than in front. I was so excited about actually finishing this garment that I was in denial about how poor the fit was, and I even wore it out a few times. It was quite an ordeal though- in order to get the bodice to stay put I had to line my whole torso with stay tape so that the dress wouldn't shift around and expose anything.
I guess the design of the dress was dramatic enough that no one really noticed how wrong it was on me (I still got plenty of compliments) but I was never comfortable in it, and once summer was over, it went into storage and I forgot about it…until this year, when I begrudgingly hung it back up in my closet when it got warm again. I don't know anyone else with my exact body size and shape, otherwise I would have given it away. My other options were to trash it or donate it, and I didn't want to do either. Even though the fit left much to be desired, I really loved the fabric. I wanted a large print to balance out the length, and I found this sort of interesting cotton floral fabric at The Fabric Store that met my criteria, but it wasn't bowling me over…until I turned the fabric over and saw that it had this hazy, worn, vintage look to the underside of it. This was one of the first times I thought outside of the box in terms of design choices on a garment, so saying goodbye to it felt weirdly sad.
Just a few days ago, as I pushed this dress to the side of my closet for the umpteenth time and cursed it for taking up so much space, I had a thought- the bodice was awful, yes, but the skirt? The skirt was actually pretty great- it was the perfect maxi length to wear with flats, it was easy to wear and comfortable, and the fabric, as I said, was really cool. I decided that I would NOT throw the dress into my goodwill pile where it would most likely get sent to the dump anyways, and instead I would lop off the bodice and add a waistband and a button.
Perfection!
Speaking of dumps, the bodice of this dress has NOT been thrown in the garbage yet, because I have not given up on this Burda design. I am keeping it in hopes of redrafting the bodice pattern into something that will actually work on my frame. All it needs is for the front piece to be extended on the sides to cover up that side boob and for the back bottom pieces of the bodice to be cut longer so that they follow the natural waistline instead of riding up. By the way, I am not a stark opponent of the side boob; like most design elements, side boob has it's time and place. Like at a red carpet event with styled hair and lipstick and heels. But side boob does not (for me at least), belong on a dress meant to be worn to picnics and flea markets.
For all my criticism of the fashion industry, I know am not blameless in the act of being wasteful and greedy for fashion's sake. I still spend time and money on making things that are virtually unwearable, and if I can't gift those end results to anyone, into the garbage they will go. This happens less often the better I get at sewing, but some things are simply un-salvageable, and I REALLY hate throwing yards of fabric into the garbage. It felt really great to take this dress, a garment that I was sure I would eventually throw away, and instead recycle it into another wearable version of itself. I would love to be able to do this with every single one of my failed makes, but that's not realistic. I can at least attempt to salvage my disasters, though; if only a handful of them turn out as successfully as this one did, I could count myself lucky.
Viva la refashion!