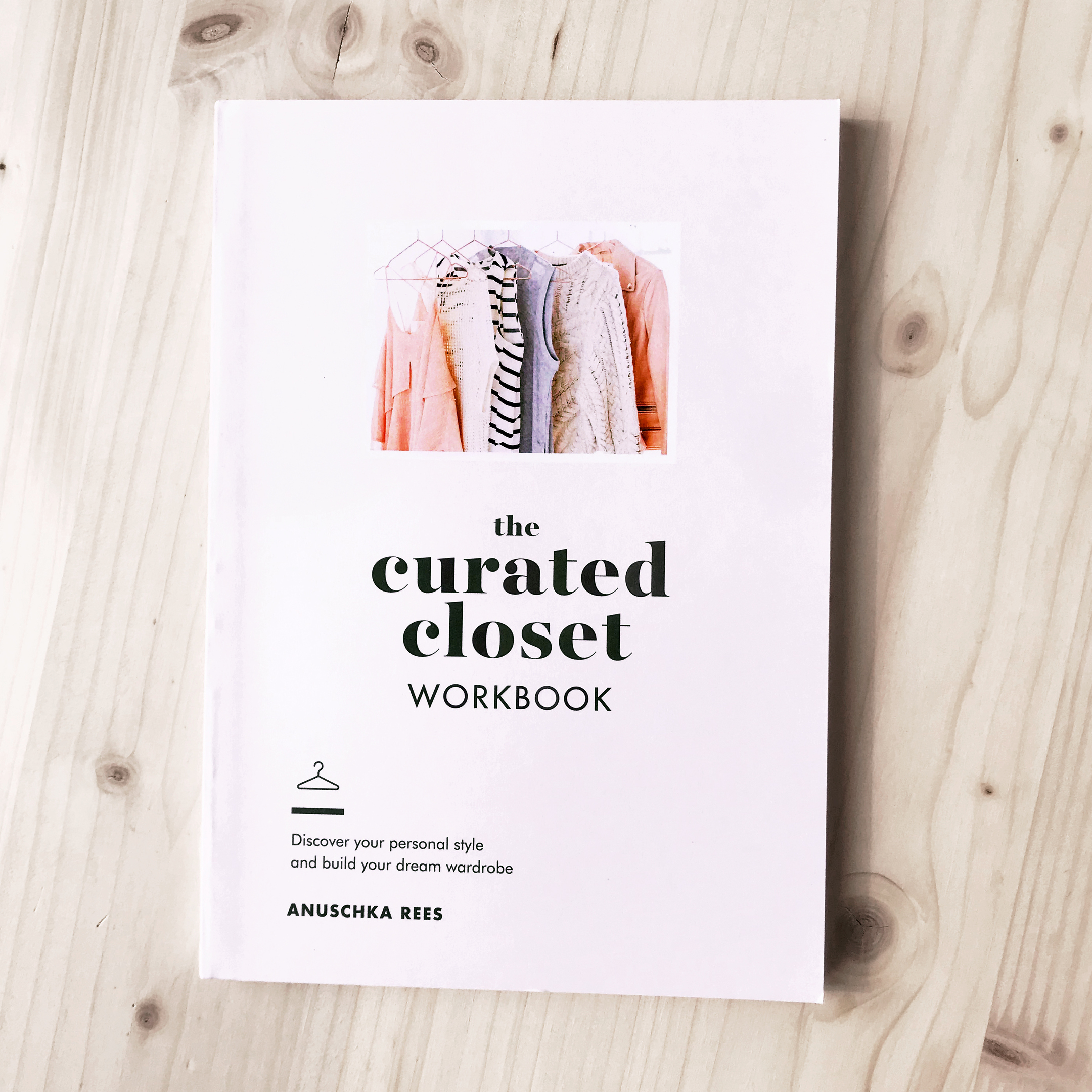 I took a strong cue from my friend Renee of the Miss Celie's Pants blog to read The Curated Closet, a lovely little book about how to cull your personal style and create a closet that works best for your tastes and lifestyle (full disclosure: I haven't finished it yet because it was due back at the e-library before I was done with it, lol- consider this blog post part 1). Although I heard lots of good things about the book since it's publication, I avoided reading it for a long time and I haven't yet pinpointed exactly why. It might have something to do with protecting "freedom" in my making life, freedom to just make whatever I want to make when inspiration hits, freedom to create without boundaries, without plans, without expectations.
I also tend to connect the terms "curated" and "minimalist" together, and the word "minimalist" is not one I am usually very comfortable with. Again, not exactly sure why, but if me and my therapist had to guess (HA!), it would have something to do with growing up poor and hating not having access to all the things that my peers did. When you're poor, you're often living a minimalist life out of necessity, and while I made it through intact, the important thing that was absent from my life was choice. It's possible that I wouldn't have changed much about my material life at all if I had the power, but I still would have loved the opportunity to choose; choice is a privilege. And now, all these years later, as a working adult with financial freedom, I still carry this strange burden with me.
Anyways, I'm deciding to try something new, even if it feels a little weird at first. What is drawing me to this idea, after so long, of curating my closet with my makes? Well, I started asking myself how pleased I was with my closet in its' current state, and although I anticipated being perfectly happy with it, after really marinating on it for a while I realized that I wasn't. My dissatisfaction had little to do with the specific items I had made over the years, but rather the lack of cohesiveness. There were some items I had sewn that only paired with one other garment in my closet, but I seemed to have sewn even more items that went with nothing in my closet! A button down in a funky print that matched no bottoms, pants I never wore because I had no blouses or shirts to match them with, and so on and so on. The most successful "outfits" I had in my closet were just jumpsuits and dresses, things I could wear on their own. I did have a couple of ensembles comprised of more than one item that looked really cute, but because they were so few and far between I ended up getting sick of those outfits because I wore them (and wore them out) to death.
So what was I doing wrong? Besides, you know, making every new sewing pattern I thought was cute in every inspiring fabric I fell in love with? Well, turns out…that's pretty much it. I wasn't putting any thought into how my clothing worked together, I was only waiting for inspiration to hit, and then sewing impulsively from there. Guess what. There is absolutely nothing wrong with this method of making! You do what works for you and what feels right! For some reason, this stopped working for me so I am excited about exploring a different approach- I've seen all kinds of sewing wizards on IG and in the blogosphere who dazzle on either end of the spectrum, and I'm sure I will continue to be inspired by them all!
I hadn't gotten very far into the book before having a couple of big revelations: 1. curating my closet was going to require me to start paying attention to color, an area in which I am mediocre at best, and 2. I did not actually dress at all like my preferred style! Shocker!!! Because I love pretty much all the things I have been wearing! But when I took an honest look at my wardrobe and tried to define my style, I couldn't do it no matter how hard I tried. And that is because my "style", as disappointing as it is to admit, is all over the place.
I had always prided myself on not caving to fads and being thoughtful about the styles of clothes I wore when I shopped RTW, but I think that when I transitioned into sewing my own clothes, that intention got lost. As I moved out of sewing strictly vintage-inspired garments and started wearing more modern silhouettes, my focus broadened- suddenly I was excited to make the shiniest, newest patterns, no matter if it fit in with a certain "look". It was great in terms of learning new techniques and discovering new silhouettes that I never knew I liked on myself, but unfortunately it also led to lots of garments made over the years that weren't sewn with much intention, and therefore didn't get a lot of wear. There isn't anything inherently wrong with following trends and fads of course, but this method of making made no sense for my closet because not all of the newest, coolest patterns actually worked for my tastes.
I figured all of this out after starting a Pinterest board (as recommended in the book) to gather all the outfit images and visual inspiration for the style that I envisioned for myself. Again, I was shocked to see how far off I was! My closet had several individual items from my board of inspo, but hardly ANY of the outfits, so my closet and my pinterest board were practically unrecognizable to each other. One big reason for this was because the color palette of my closet and the color palette of my dream style were waaaaaay off. I mean, I had never even thought about a color palette in my life til I read about it in the Curated Closet! But sitting down and looking at the dozens of images I had compiled onto this board, my color choices were pretty clear. I liked earth tones, oranges, peaches, tans and really soft pinks, with bursts of interesting colors. It was surprising how consistent the styles and colors were on my board (because that's not what my closet looked like), and I started getting excited because this meant there was an actual direction that my curating could take.
Here are the main takeaways I got after examining the themes in my style board:
I preferred simple, graphic prints over florals, so there were lots of polka dots, plaids, stripes and grids. The florals that showed up were in medium to large prints and in a subdued palette.



I was drawn to a playful look that still felt sophisticated. Instead of relying solely on novelty prints or bold color combinations to get across my quirky tastes, I want to experiment with pairing different kinds of textures together and mixing and matching prints. This seems like a fun way for me to mix up simple silhouettes and classic garments while not looking boring (which is how my entire closet has started to feel the more I have honed in on my personal tastes!)



I LOVE MONOCHROMATIC LOOKS! But I don't have one true monochromatic outfit comprised of separates in my entire closet! What gives?!? When Katie of What Katie Sews started the #dresslikeacrayon hashtag earlier this year, I would drool over every single photo she shared and make a weak promise to myself that I would try it out myself one day, but of course I never could because nothing in my closet matched! My board also had many versions of matching print top + bottom separates, or pieces paired together with fabrics within the same color family but with slight variations in texture or shade.



I love dresses in two silhouettes: a simple, fitted shape with delicate but interesting details in luminous fabrics…




…and I like midi and maxi dresses that are well proportioned to my body with a close fitting bodice.




The other trends I noticed were ensembles with thoughtfully layered pieces,

big blousey sweaters and tops paired with fitted trousers and jeans,

playfully preppy looks,

and pattern clashing.

Seeing all this together might seem like way too many variations in style to be cohesive at all, but trust me when I tell you that it absolutely is more focused than whatever is currently going on in my closet, lol.
In her book, Rees mentions color a few times and refers to a person's specific palette and how some people have found a lot of power from only wearing "their" colors. I of course had heard the theory of people having "seasons" before but I didn't know much about it, so I googled to learn more…and then I went down a whole color rabbithole! It just so happened that my mother in law heard me and Renee, who was over for a visit at my in-laws house over the holidays, discussing the theory of seasons of color. She then went on a hunt to find her copy of the original book that started this trend in the early 1970's, Color Me Beautiful by Carole Jackson. It eventually fell out of fashion but at it's height it was considered the "bible" for fashionable women.
I read the thing cover to cover within a couple days. It was jam packed with both a wealth of thoughtful and helpful information and some of the most antiquated, racist, sexist and fatphobic tropes that you could imagine. In short, the book shares a simplified theory about how skin tones can be categorized into 2 main groups, warms and cools, and 4 sub-groups, a.k.a. seasons: Winter and Summer (the cool side of the spectrum) and Autumn and Spring (the warm side). Cools have a blue undertone and therefore benefit from wearing cooler colors that make their skin and face brighten and look alive, while Warms have yellow undertones and look best in their own specific palette of colors. In addition to understanding how color works with hair and skin and eye color, there is a section about the kinds of styles women in the strictest binary sense of the word "should" wear and how certain clothes and shapes can "make you look fat" and how that should be avoided if at all possible. Sigh. It was appealing and appalling in the same breath, and I marveled at the mess of it! I've been told that the book has been updated for modern times and is less problematic now, which, if true, is great, but I can only comment on what I read in the version I recieved.
The biggest issue that I noticed right off the bat was that there were only 2 models of color out of maybe 19 or 20 images throughout the book, so determining the seasons for anybody not white or light skinned has proven to be pretty much impossible for me. There are several factors used in determining what your own undertone is, but the most common way seems to be looking at the veins on the inside of your wrist/hand/arm to see if they look greenish or bluish. If you have more pigment in your skin, the color of your veins might not show up that well or at all, and there are essentially no ways listed in (my version of) the book to apply any of the other the rules to brunettes with dark eyes and brown or black skin to figure out their season, a fact that the author essentially refuses to even recognize- I guess she doesn't understand that black and brown people can be brunettes, too.
I knew what my color was before I even read the book because I found information online to figure it out (I'm a deep autumn!), but the book goes into detail about WHY your color palette exists, how it's helpful and how to apply the use of your specific colors in your wardrobe, so that stuff was helpful to me. For folks interested in reading the book who have skin color that might not be accurately reflected in the pages, try figuring out your palette with some of the quizes available online first and then using the book to supplement that knowledge.
The most helpful part of the book for me was seeing "right" and "wrong" color photos with some of the models. Although not many of them looked downright bad in the "wrong" color (and obviously there should be a different descriptive word than "wrong", but I digress), seeing them in a hue from their specific color palette really did have a positive effect on them, which could be hard to describe in words. Sometimes it was obvious that a color washed a model out or made her look sallow, but other times I couldn't articulate why the other color looked better on her, she just suddenly seemed to pop and look alive in the "right" color.
Seeing my Color Me Beautiful color chart for the first time made me audibly gasp- although the variety of colors seemed limited in comparison to the other seasons, it was hands down my favorite group of colors. And again, big shocker, but I hardly have any of these colors in my wardrobe. Autumns don't have pink in their chart, nor is there much gray, two colors that show up a LOT in my closet, but there are lots of oranges, golds and browns, and more shades of green that I could even imagine! I hardly ever make things in green! There was also a lot of red, but it was orange-red, not blue -ed, and now I realize that I don't actually despise the color red at all, I've just always been envisioning the wrong shade of it. Cherry red is no good on me, but brick and rust and sunset reds, all reds with a yellow undertone, are terrific. These little epiphanies were so exciting once they were revealed! I was getting direction on how to hone in on my ideal style, and instead of feeling overwhelmed about how to tackle the next steps, I was feeling focused. I mentioned this years ago in a blog post here, but earth tones, which my mom always said looked so good on me, just made me feel boring when I was a teenager- I always gravitated towards sparkly turquoises and purples and fuschias (colors not in my palette). But today when I wear those jewel toned shades, I feel like the color is what pops, not me. Well, guess what- I'm officially ready to pop!
While on the east coast visiting family for the holidays, I took a trip down to Alexandria, VA to go to Fibre Space and Stitch Sew Shop, both well reviewed yarn and fabric stores, respectively. Neither one disappointed; the moment I stepped into Fibre Space I felt overloaded with all the beauty! I wanted to touch every single skein, brush every fibre against my neck to test it's softness, shroud myself in each sample on display. The store was cozy, beautiful, and well-designed, but the yarn selection was outstanding. The colors were exceptionally vibrant in the well-lit space and I got dizzy whipping my head around to behold everything, but then I remembered that I'd brought my color palette chart with me.
I pulled out the book and started comparing the squares of pigment on the page to what I was most drawn to in the shop, within the parameters of my palette. The bright golden yellow on the page (surprisingly the only yellow listed for my season) matched perfectly with the chunky, soft yarn I was eyeing to make a hat for myself, but the pinkish-purple-y red I liked didn't make the cut because it had blue undertones, not yellow. Instead, I opted for a variegated mossy green with flecks of gray and forrest throughout. Easy peasy! I still brushed my fingers over all the pale pinks and powdery blues and grays because I adore those colors, but I didn't waste my time with them- I've made so many sweaters in these hues that never got much wear, and now I know why!
One line in The Curated Closet book stuck out for me a lot- the author says that she has always been drawn to dramatic floral prints, but that they don't really suit her personal style so much. So instead of forcing herself into a print that didn't make her feel her best, she started incorporating florals into her home decor, which means she still gets to see and experience the beautiful prints she loves. I love this simple twist of perspective so much. I am always, always going to love pale pastel pinks and heather grays and aquas and lemon yellows, but not having them in my color palette doesn't mean I can't enjoy them; if it's in a color that it is too cool for me, I can simply try scooting them over to other places in my life, through accessories or garment linings or jewelry or home decor, and see how that feels.
My trip to Stitch Sew Shop, a curated fabric and patterns store with a space for sewing classes, was just as successful as my yarn store visit. Stitch Sew Shop store was so beautiful and upscale that it felt like an atelier! The selection was considered and alluring- instead of being bombarded with a giant selection of textiles of varying quality, I got to revel in each carefully selected bolt, which of course made me want to buy everything I saw. But I showed restraint because I had my color chart with me, and I already knew what holes from my closet needed to be filled! I bought a grayed green medium-weight corduroy (which will probably become a pair of Landers), a pumpkin colored ribbed knit that I will most likely turn into a fitted turtleneck, and one yard of an expensive and incredibly lux 3-ply silk in the deepest, most vibrant shade of rust I've ever seen. I plan to make a simple blouse with this one, possibly a cami or tank. Looking at my stack of yarn and fabric together was the first time I can remember making a purchase where everything actually looked like it belonged together, which I think can only bode well for getting my wardrobe into better shape.
Thanks for joining me on this very verbose journey about style and color and clothing- I have been sharing stories about the Color Me Beautiful book on my IG all week and so many people have been writing to ask for more details about it that it seemed smart to write a blog post- after all, this new method is changing the way I make and dress, and that's what this blog is about! Once I am back home in LA, I plan to go through all my fabric and keep only the pieces that I know are in my color palette and the pieces that I am most fond of (if I don't want to use it on myself it might still work for Claire or someone else I know).
In part 2 of this subject, I plan on actually finishing The Curated Closet and sharing some of the things I've learned about my style goals and what I need to do to my closet to implement them. I'm also starting a list of the key, basic, and complimentary wardrobe items that are missing from my closet that I want to make, plus any accessories I can buy to round things out and help complete certain outfits so that more of my items can work well together. Stay tuned if you want to know more about the next part of curating my closet with my color palette!