I actually hate the nickname Sika and I only let a tiny few people in my family use it, but it does have kind of a nice ring to it in this context, lol!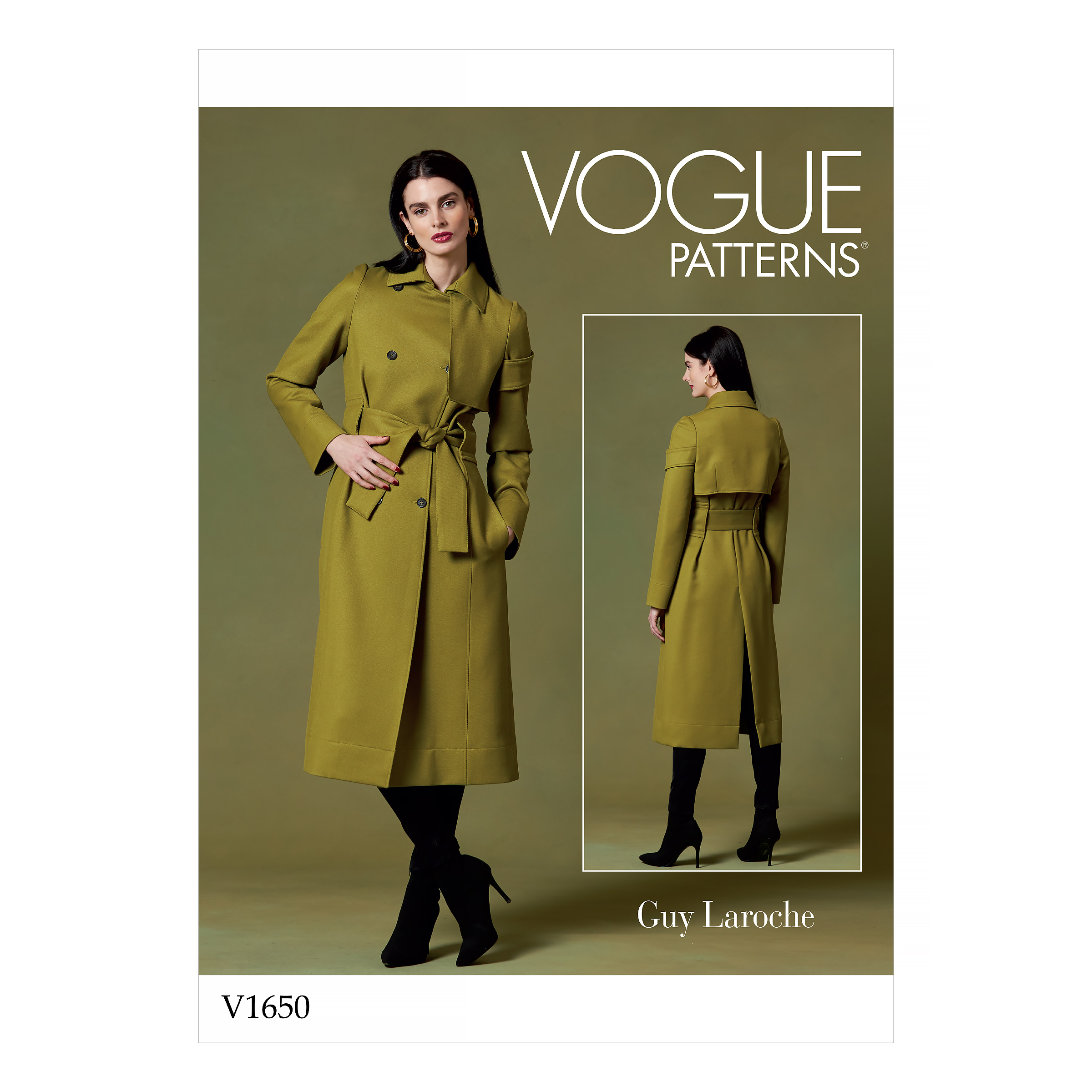 This Vogue 1650 trench coat was a BEAST, but I expected it to be. Occasionally I'll come across a design that is deceivingly fancy, the kind that looks like you put way more work into it than you actually did, the kind where you feel a little guilty accepting compliments on it because it wasn't a particularly difficult project even though it looks super amazing. This is not one of those patterns. Every bell and whistle you see on this coat took all my strength to ring and all my breath to blow, but I do think it was worth it in the end!
The green fabric is from The Fabric Store, and I am so tickled that I chose this color even though I hadn't gone on my color palette journey yet to discover that green is smack dab in the middle of my seasonal palette. One of the reasons I landed on this fabric (aside from the fact that it's so similar to the version on the envelope, haha) is because it specifically seemed perfect for this project, but green is the only colorway it came in, so the color is just a happy accident! It's a sturdy nylon and canvas blend, which makes it great for outerwear since it repels water very easily (it's not treated with anything, that's just the qualities of the fabric) but it was incredibly difficult to sew because…well, again, it repels water very easily!
Ironing interfacing to these pieces was a journey into madness- it wouldn't take steam well at all and adding more heat just burned the nylon fibers of the fabric, but I had to press on because, what good is a trench coat without interfacing?? I was afraid that regular sew-in interfacing would alter the fabric's properties (it is crisp, unwrinkling, and…unfortunately I can't think of a better word than erect, lol- it just stands straight up at attention!) I worried that sew-in would either make it floppy or make it lose it's crispness, and I also was lazy and didn't want to go all the way downtown to buy some sew-in. Eventually I learned that spraying the interfacing lightly with water, then pressing down very hard with a medium-set iron and a press cloth worked 80% of the time. When it didn't work, I would see little bubbles peeking up from the otherwise smooth canvas, and then I would have to use the strength of ten Serena Williamses to press even harder and push those bubbles out to the edges, which would also work about 80% of the time. In short, I couldn't get all the interfaced pieces perfectly flat and adhered, but so far I haven't noticed any bubbles when I am wearing the coat, so let's just call it even: Trench:1 Jasika:1.
Aside from the bizarre properties of the fabric, this sewing pattern has 4,672 pieces. Y'all. Y'ALL. I feel like I might have spent one lifetime tracing and cutting out all the fabric, lining, and interfacing pieces of this damn coat. Then I died and was reborn again in time to actually sew everything together. Half of this coat was made by a ghost. This many pieces of a sewing project isn't all that unheard of, nor is it that difficult for me to get a hold of under normal circumstances, but I started and finished this entire project in my apartment in Vancouver, which means I didn't have my trusty cutting table or rotary cutters or the space I'm used to for laying pattern pieces in separate piles around the room for easy organization. And also. I had to cut. my. pieces. out. on. the. floor. I'm fast approaching the age where this kind of activity is a OH NO THE HELL YOU WONT! I was doing cat/cows, back stretches and downward dogs every 10 minutes because my body was SO not okay with being treated so poorly, lol. I think it took me a full two days to cut all these pieces out but I finally got her done. Then I went through the hell of trying to interface everything, which took another half a day. When I was finally ready to sew, I celebrated and hooped and hollered and flew through construction of all the big parts, but I got slowed down again once I finally put the sleeves on the jacket and realized that something was very wrong.
This next part of my sewing project became a dramatic saga detailed in my stories on instagram over the span of a few days, so if you missed seeing them, I'll get you up to speed. Essentially the sleeves were drafted really weird on me. I made a size that my measurements fit squarely into and I didn't anticipate there being any issues with fit, but once I tried the jacket on with the sleeeves, it was obvious that something was amiss. Mainly, the armhole felt way too tight at the underarm, and way to shallow around the bicep, so it pulled on the bust area of the coat even when the coat was open. I am not a busty person (32B here!) and I also have a small back, so whenever I have too-tight issues at the bust on a garment that I know for sure I made the correct size in, I know it's something to do with the drafting and not with me. There were drag lines at the bust as the sleeves tugged around my arms, and that was just with me standing still with my arms at my sides- as soon as I moved my arms away from my body, the whole entire coat lifted up- instead of  being able to move my arms freely, the jacket was moving with them.
Thankfully Grace (wzrdreams for those of you who are unfamiliar, my friend and professional tech designer for RTW who is a virtual wealth of information for so many of us in the sewing community) had some ideas for me on how to fix the sleeves. She also shared lots of helpful information about the drafting of Big 4 patterns and explained why I always seem to have the same issues with their patterns but not any others. With my newfound knowledge from Grace, I unpicked the sleeves, made the armholes deeper by scooping out maybe 3/4″ at the bottom of the armhole grading to nothing about halfway up, and re-drafted my sleeve pieces (back on the floor, I went!). I added length to the top of the sleeve cap to accommodate what I scooped out of the armhole, widened the entire sleeve so I had more ease for wear, and re-cut the little band on the one side so that it would fit around the wider sleeve piece. I was nervous this wouldn't work at all because I didn't have any of the TOOLS that you are supposed to do this with, like curved rulers and math, lol. I was pretty much just eyeballing things and guesstimating, but it's all I had to work with and guess what…it totally worked! I know it is imperfect in some ways, perhaps there is a version of this fix that is much more precise than what I was able to do, but by god, it worked! I could move my arms and wiggle around comfortably, wear a sweater underneath without it feeling like I was suffocating my arms, the bodice has no more weird drag lines, and there was no visual misalignment with any of my seams. So, take THAT, coat! Trench: 1  Jasika: 2, for those of you still keeping score.
The rest of the coat was put together without too much drama. The lining of this coat didn't require me to birth her, sadly, so I did lots of hand sewing to attach everything at the hems, and a bit more hand sewing when I realized the  coat wasn't hanging properly and the lining was tugging at the outer shell. That's pretty much the last hurdle I had to tackle, right at the very end, and again, I attribute it to the wonderfully strange qualities of this nylon canvas- I've never sewn with anything quite like it, and it bewildered me as much as it made my heart sing. I think there is still a little tugging and pulling on the hem because of how the fabric wants to lay, but it's something I can am living with. I'm not a sewfectionist and probably never will be!
I was excited to wear this coat even before it was actually finished- I wrapped the belt super tight around me and wore it without buttons when I went shopping for… buttons! Ha! Which, by the way, I found at Dress Sew, my favorite physical fabric store in Vancouver. The selection of buttons in the basement of Dress Sew is tremendously good but also overwhelming. Thankfully everything is arranged by color which at least gives you a place to start if you are trying to color match.
I am so proud of this jacket, not so much because of how well it turned out, but because of how much I persevered to see it through to the end. It's so easy sometimes to run into one too many obstacles on a project and decide that your time is better spent starting over from scratch, with something different, something familiar, something easy-ish. That's what my Butthole Bin has been for. But as I get further along in my sewing career, I have learned to trust my skillset and my ability to think outside the box when it comes to making something work that decidedly does NOT want to work. This doesn't mean that the same answer applies to every project I work on- sometimes my mental health is way more important than figuring out how to fix that wonky zip fly. But trusting myself enough to at least try to fix things instead of immediately discarding them feels like major growth for me, and I'm very thankful.
Thanks to my babygirl, Claire, for the photos!