HA! Sorry, I couldn't help myself!
I made eyes with this amazing fabric twice at The Fabric Store before I finally took the plunge and got a cut of it. I had no idea what I would make with it, but I knew it wouldn't take long to figure something out. I am learning to let a fabric speak to me first instead of trying to tell it what it should be and ignoring its qualities. Like many jaquards, this fabric has a LOT of body, it holds its shape beautifully and it doesn't wrinkle, but this also means it doesn't respond to ironing very well, so a pattern with lots of folds and gathers and tucks isn't a good choice for it. Initially I imagined this fabric in a classic fit n' flare shape- I wanted to take advantage of the volume it would exhibit in a skirt- but I have been feeling a little bored with this silhouette lately. I love fit n' flare but I have made a this style of dress several times over the past few months and I needed to change it up just a bit. I brought this yellow and blue tear drop jaquard fabric with me to Savannah and let it marinate in my closet a bit while I waited for inspiration to hit.
And hit it did! While glimpsing over my BlogLovin' feed, I read this post by Handmade Jane on a blouse she made from a Danish indie pattern company called How To Do Fashion. One quick scroll over to their pattern shop and I was SMITTEN! HTDF has a vintage aesthetic with uncomplicated silhouettes that have a really dramatic effect. I love pattern designer Nanna's use of fabrics- she seems to be a genius at marrying her designs with the perfect classic print, color and textile to elevate the whole look.
These are two of the looks that immediately caught my eye on HTDF's website, and I am posting them here because I actually made up versions of both of these designs, so I can talk to you about my experience with all of them. I will focus this post on the two-piece outfit in grey above (my version of the red polka dot dress will come in a later post)!
As you can see, both looks above are attributed to the pattern No. 8 Svaneke. I thought it was a pretty good deal to get this many different looks/options in one pattern, and I purchased the hard copy because PDFs were not available for this particular design. The pattern arrived in a large envelope with a How To Do Fashion clothing tag for my finished garment and the pattern printed on thick, high quality paper. In the above blog post, one of Handmade Jane's complaints was that instructions were not included in the printed version of the pattern. I personally think this is a big plus because it wastes less paper, and the instructions are easily available on the pattern's website- you can print the instructions out if you need a hard copy or you can download them as a PDF and read them off your computer, tablet or phone (which is my preferred method). So kudos to that! On the other hand, the pattern pieces are printed on both sides of the paper, so you can't cut the pieces out. This is actually not a problem for me because, unless it's a one-size-fits-all kind of pattern, I copy all my pattern pieces onto paper so that the original pattern can stay intact and I have the option to make different sizes/adjust the fit/loan out or sell the pattern in the future. I realize that this method kind of negates the "not wasting paper" rule of thumb, but on the other other hand, printing on both sides of the pattern paper is also less wasteful. I guess it's just a personal preference, but for me, the HTDF printed patterns are spot-on for my needs.
The instructions, however, were another story! There were a couple of issues for me with these patterns when it came to figuring out how to make them. One was that the actual instructions are a little more bare bones than I am used to. Ultimately I was fine with it- I have been sewing for long enough that I can figure out how to make pretty much anything come together without too much hand-wringing, but I would not suggest that a beginner try and tackle these patterns unless they were okay with having to figure out a lot of stuff on their own. It is certainly not an impossible pattern for an inexperienced sewist to complete, but heads up: they might need to phone a friend. As Handmade Jane wrote in her blog post, some of this might come from the instructions being translated into another language, which is totally understandable.
But my main beef with the pattern instructions has to do with the photos used for the styled and completed garments. As seen in the picture of the two-piece grey outfit I posted above, the outfit consists of two pieces: a crop top and a matching pleated full skirt. The beautiful skirt is what actually caught my eye in the photo and I loved how it looked with the voluminous fabric- I thought this design would look perfect with my own jaquard textile. However, if you take a closer look at the line drawings for the pattern pieces, you will see that the skirt is actually gathered at the waistband, not pleated. I assumed that there was simply not enough room to show all the different versions of the skirt in the line drawing, and that instructions would be included in the pattern on how to make the pleated skirt shown in the picture, but once I got the pattern pieces, I realized this to be false.
Why would you include a photo of a garment with a pattern if you can't actually make that particular garment? I hemmed and hawed for a while over what to do and eventually decided that I would just need to create a pleated skirt using my own drafting expertise experimentation. I was definitely annoyed at having to spend so much time essentially re-creating a pattern that I spent good money on (the total amount for this pattern after shipping and taxes came out to be around $30USD), but I had my heart set on the cute silhouette of this crop-top and full skirt pattern, so I wasn't going to turn back now. I cut out skirt pieces using the pattern from my By Hand London's Brilliant Bouquet Dress and after I had spent a couple of hours playing around with the pleats and making them even all the way around (I didn't have a dressform in Savannah so I had to do all my adjusting and fitting on my body while standing on top of a bed because it faced the only decent-sized mirror in my apartment), I sewed the skirt together and felt fairly pleased with what I had created with my limited knowledge. And then a few minutes later while perusing the How To Do Fashion website's blog, I came across a tutorial for making the No.8 Svaneke skirt pattern into the pleated skirt shown in the pictures.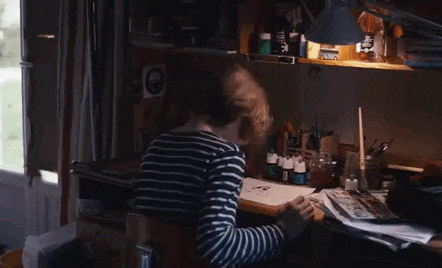 COLOR. ME. ANNOYED. It turns out that the pleated skirt is a hack of the original gathered skirt in the pattern bundle! Sigh. I think that including a picture of a hack in a description of a pattern without any mention of it being a hack is misleading; all versions shown in the photos should be included in the instructions and pattern bundle, or at the very least, some mention of the hack should be written into the description of the pattern instructions so that the maker knows exactly where to go for the info to create the garments that are shown in the product description.
Anyways, enough about the instructional snafu! A little knowledge and growth isn't a bad thing for me, and now I know that I can make a beautifully pleated skirt without too much hassle! I thought that large pleats for my skirt would be better suited for my fabric than thinner ones, so I started in the middle of the front of skirt and worked my way out, and once I was happy with how those pleats looked, I mirrored them for the other side. I played around with the placement for quite a while until I was satisfied with how they laid around my hips, then I sewed the waistband and zipper on. In the original pattern, I believe that the skirt waistband is supposed to be lapped (I didn't follow those instructions so I can't quite remember), but because of my thick fabric, it created too much visual bulk. So I decided instead to have the waistband edges meet at center back above the zipper and use two hooks and eyes to close it.
Despite having to create my own skirt from scratch, the crop top is what required the most amount of work. I made the top as instructed from start to finish, but realized I didn't like the amount of width around the bottom of the blouse. Unfortunately I didn't have a lot of wiggle room to play around with the seams because the blouse closes with an invisible zipper in the back and needs to be wide enough to get it over your torso. Although I love the boxy look on the model in the photos, I knew it would look much better on me cinched in a bit more at the side seams, so I needed to figure out a different way to close the back of the blouse. One option would be to use a separating zip so that it could open completely and I could get in and out of the blouse with ease, but I didn't want the zipper to detract from the rest of the shirt and the matching skirt, and detachable zips seem to be pretty bulky and visible. My other option was to create a button band on the back edges of the blouse with buttholes and buttons, but that seemed like more work than I was willing to put into such a simple blouse. Ultimately I compromised- I used a button and loop method so that I could use the original blouse pieces as-is without having to add interfaced bands. I cut out and attached a piece of fabric the length of the back center piece and about 2 inches in width, and then attached 8 loops of white corded elastic evenly spaced along the edge. I then sewed them to the seam allowance of the back left bodice piece and folded it under. On the opposite bodice piece I sewed corresponding buttons close to the edge, and voila! Easy button closure without all the hassle of buttonholes and bands!
After I made the new closure, I took in the side seams about an inch or so, angled up towards the sleeves, and I much prefer the way the blouse fits and looks now! The sleeves and bust of this blouse are a teensy bit tighter than I would prefer, even after letting the seams out a bit, so if I make this top again I will go up in the bust at least one size and keep the adjustments I made to the side seams, and I might shorten it just a bit so that you can see more crop when my arms are down at my sides (as you can see in the pics, you can't really see much belly skin unless my arms are raised).
All in all a super cute outfit that definitely looks different than anything else I have in my #redcarpetDIY wardrobe! I love the little sliver of skin that shows between the hem of the blouse and waistband of the skirt, and I love the unique and dynamic look of the jaquard print; up close it looks like yellow teardrops with a spot of blue inside, but from just a few feet away the pattern meshes into a haze of trippy polka dots. My favorite color to wear is yellow so I am in total love with the subtle brightness this fabric lends- coupled with the blue accent, it's not overpowering, but it definitely makes a statement.